Parul meu are personalitate. Eu fac si dreg, el le are pe ale lui.  Eu imi pregatesc textele pentru spectacolele in care joc, le repet, le invat. Regizorul imi da indicatii, este atent la miscarile pe care le fac, la intonatia vocii, la modul in care reactionez la replicile colegilor mei. Parul meu, la randul lui, trebuie sa fie cumva. Fie ca vorbesc de teatru, de film, de sedinte foto, de reclame, dupa ce stabilim scenariul, ajungem si la "cum sa fie parul". Pai sa fie blond, sa fie castaniu, impletit, lasat, prins, cu breton, fara breton, sa fie fixat, liber, drept sau ondulat. Un milion de variante cam cate fete poate avea si personajul pe care trebuie sa-l interpretez.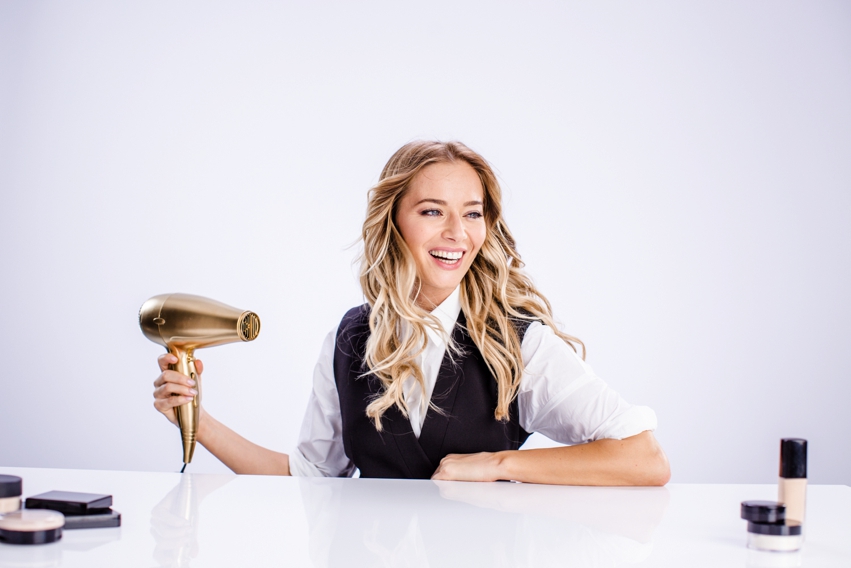 Am o experienta foarte bogata in ceea ce-l priveste. A fost trecut prin multe si am invatat in timp sa-l cunosc si sa-l ascult. Are propria viata si asta imi place. Ne completam foarte bine si asta este secretul nostru. :)
Nu spun eu asta despre el, ca este un par foarte bun, ideal pentru a incerca 1000 de coafuri, ci hair stilistii, care au multa experienta si care il lauda la fiecare intalnire, ca sta asa cum il pui, buclele rezista, daca folosesti ulei la varfuri devine matasos, nu se ingrasa si nici nu se lasa usor.
Nu am secrete in ceea ce-l priveste. Nu folosesc produse care sa coste o avere, nu imi petrec ore intregi in saloane.
Am un ritual foarte simplu si singura magie este naturaletea pe care mizez.
Daca zambesti si parul tau o va face, daca privesti soarele el ii va da lumina, daca nu-l bruschezi si nu il intoxici, cu siguranta va fi prietenul tau pe viata!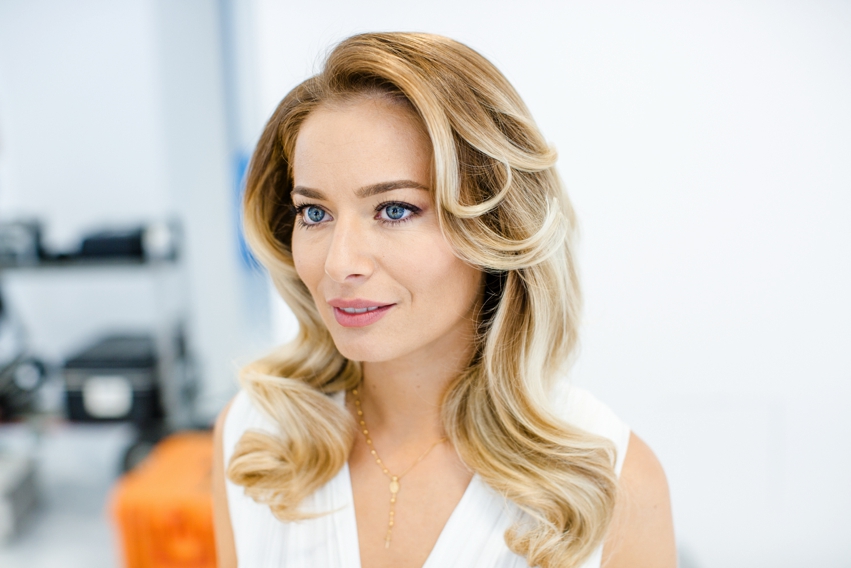 Asadar, parul meu este iubit. Asa cum este, cu firul subtire, nu foarte des, dar cu personalitate.
Si pentru ca m-ai intrebat de multe ori, iata care sunt obiceiurile in ceea ce-l priveste:
-Il spal cu un sampon din comert, pe care oricine poate sa-l testeze – Pantene Pro V. Da, sunt ambasadoarea brandului in Romania pentru ca am testat produsul si pentru ca este exact ceea ce parul meu are nevoie. Acum reteta este una noua si dupa ce am testat-o, am devenit dependenta de acest sampon. De exemplu l-am uitat acasa in luna de miere si evident ca am suferit cumplit cand am vazut cum parul devenise foarte gras la radacina si foarte uscat la varfuri. Am revenit cu entuziasm la samponul meu si la masca mea, care-l face stralucitor si  vizibil mai sanatos .Nu te-ai astepta ca un brand de ingrijire a parului sa vorbeasca despre fizica cuantica. Dar, cercetatorii Pantene Pro-V au aplicat cunostinte de fizica cuantica pentru a dezvolta aceasta noua tehnologie. Astfel, ei au ajuns la o formula care contine EDDS – un "magnet mineral" ingenios care vizeaza, capteaza si ajuta la neutralizarea cuprului din apa cu care ne spalam parul. In felul acesta, procesul de degradare este oprit inainte sa inceapa. De obicei, EDDS se gaseste doar in sampoanele de nisa – de exemplu, cele destinate inotatorilor. Pantene este primul brand de ingrijire a parului care utilizeaza aceasta tehnologie pentru intreaga sa gama de sampoane. – Nu il incarc cu produse de styling si il las sa se usuce natural sau folosesc peria rotativa pentru varfuri.
Prin aceasta postare am vrut sa raspund zecilor de mesaje care ma intrebau despre ritualul parului meu, sa-ti comunic ca Pantene Pro V si-a schimbat formula si ca, daca alegi samponul potrivit tipului tau de par, vei fi surprinsa placut de efectele lui. Mai mult decat atat, sunt fericita ca reclama Pantene Pro V a aparut deja pe tv si asa pot sa ma vada mai des familia mea de la Iasi, cea de la Tg Mures, dar si bunicii de la Brasov si bunica de la Saulia.
P.S: In reclama nu am purtat extensii si nici nu s-au folosit produse de styling. Altfel nu ar fi avut acea miscare "elastica", naturala in cadrele slow motion si nici nu as fi putut schimba atatea coafuri intr-o singura zi! Iti place cum a iesit?
foto: Barna Nemethi
– EN –
My hair has personality. I do that and that, he has his. I prepare the texts for my performances in the play, repeat, learn. The director gives me indications, watching the moves I make, the intonation of voice, how I react to cues of my colleagues. My hair, in turn, must be special. Wether I talk about theater, film, photo shoots, commercials, after we set script, we end up to the discussion "how should the hair look like". Well, to be blond, to be dark, to be braided , in a pony tale, with bangs, no bangs, to be set free, straight or curly. A million choices about how many ways it can be styled for each character I need to play.
I have a very vast experience when it comes about my hair. It has gone through a lot and I learned in time to get to know it and listen to it. It has its own life and I like that. We complete each other very well and this is our secret. :)
It is not only me saying this about it, that it is a very good hair, ideal to try 1000 hairstyles. The hairstylists, who have a lot of experience, also say this about my hair every time I meet them. My hair is easy to be styled and my curls last for a long time. If you use hair oil on your hair tips, you hair becomes silky, not greasy at the roots and your hairstyle lasts longer.
I do not have secrets in what concerns it. I do not use products that cost a fortune, I do not spend hours in the hair salons.
I have a very simple and ritual and the only magic is the naturalness that I always bet on.
If you smile, so will your hair, if you look at the sun, it will give your hair light, if you don't agress it, definitely it will be your friend for life!
So, my hair is loved. Just as it is: with a thin strand, not too thick, but with a lot of presonality.
And because you asked me so many times, these are my habits in what concerns it:
-I'm using a normal shampoo, available for anyone – Pantene Pro V. Yes, I am brand ambassador in Romania because I tested the product and that is exactly what my hair needs. The new formula just gave me addiction after testing it. For example, when I left in my honeymoon, I forgot it at home. I suffered so much, as I had to use another shampoo, and my hair became greasy at the roots and dry at the ends. I returned enthusiastically to my shampoo and my mask which makes it shiny and visibly healthier.
I do not use styling products excesively and I let it dry naturally or use electric brush for the tips.
With this post I wanted to answer dozens of messages asking me about the ritual I have for my hair, to communicate your Pantene Pro V changed the formula and that if you choose the right shampoo for your hair type, you will be pleasantly surprised by its effects . Moreover, I am happy that appeared advertising Pantene Pro V has already tv so my family from Iasi, Tg Mures, and grandparents from Brasov and grandmother from Saul can see me more often
PS: In the TV commercial I did not wear extensions and I did not use any styling products. Otherwise it would not have had that natural "elastic" movement in the slow motion images, and I wouldn't have been able to change so many styles in one day! Do you like how it came out?