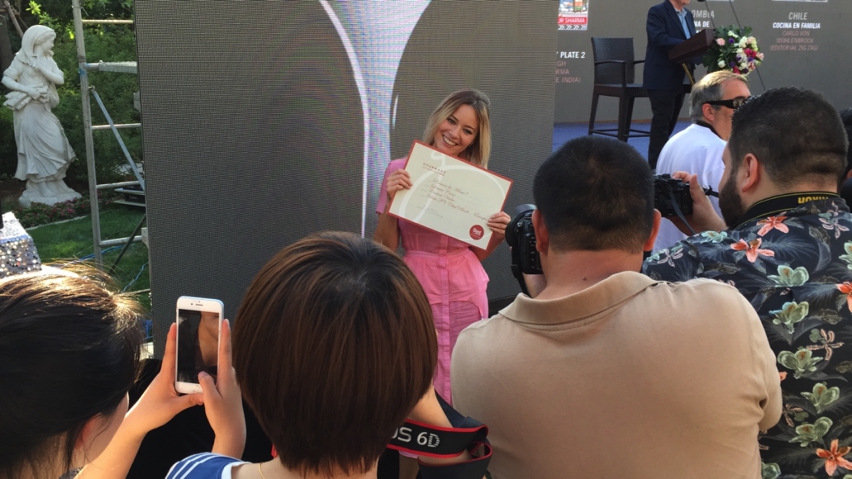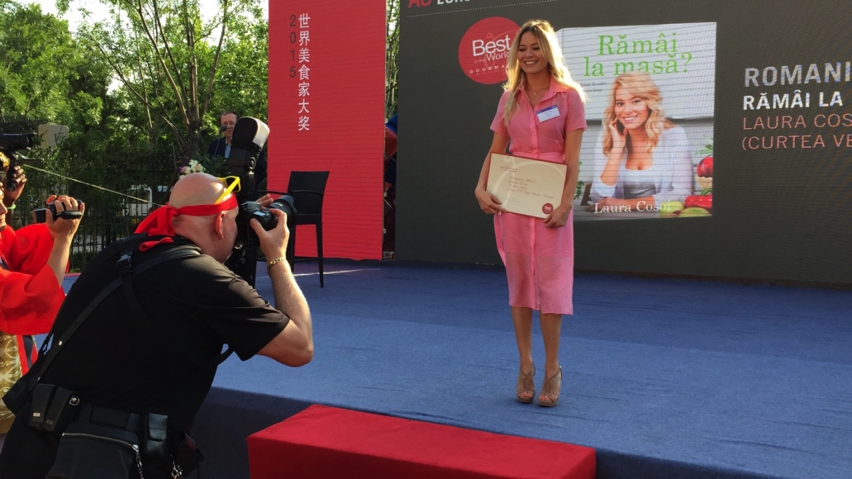 M-am trezit cu zambetul pe buze si parca nici acum nu imi vine sa cred ca am castigat eu marele premiu si ca vin acasa cu trofeul pentru Romania mea. Uitandu-ma in jurul meu, aseara, i-am observat atent pe greii din industrie, participanti ai acestui eveniment de ani si ani si m-am gandit ce noroc pe capul meu sa pot fi si eu printre ei!
Infiintate in urma cu 20 de ani, premiile Gourmand sunt practic cele care au creat industria cartilor de bucate, iar evenimentul organizat anual este cel mai mare eveniment pentru cartile de gastronomie din lume. Fondatorul Premiilor Gourmand, Edouard Cointreau, este mostenitorul celebrului imperiu Cointreau din Franta (renumit in toata lumea pentru lichiorul si coniacul cu acelasi nume), Presedintele Asociatiei Mondiale a Producatorilor de Emisiuni Gastronomice si Presedintele de Onoare al China Food Television. Titlurile castigatoare vor fi in prim-plan la Targul de carte de la Frankfurt intre 14 si 18 octombrie 2015.
In fiecare an premiile se tin in alta tara si daca Europa era la putere iata ca anul acesta gala s-a organizat in China!
Am intalnit aici oameni deosebiti, profesionisti desavarsiti, pentru care pasiunea pentru arta culinara si cartile de bucate este nemarginita. Au fost prezenti oameni de peste tot din lume, care mai de care mai interesanti, zambitori, pusi pe glume, prietenosi, imbracati in tot felul de costume traditionale, mandri de tarile lor. Am petrecut o zi minunata in compania lor, am povestit despre lumea cartilor, despre calatorii si specificul bucatariilor care ii reprezinta.
Am fost prezenti la conferinte, intalniri cu presa, am dat interviuri si am testat mancarurile venite la pachet cu show-urile.
Pentru mine, simplul fapt ca faceam parte din frumoasa poveste Gourmand era tot ce imi puteam dori. Decernarea premiilor era un motiv in plus sa ii vad pe autori in toata splendoarea lor, urcand pe scena, povestind despre proiectele lor, multumind. I-am aplaudat cu bucurie pe fiecare in parte, pentru ca stiam cata munca au depus sa fie aici.
Eu m-am asezat langa Csaba dalla Zorza, din Italia, cu care participam la aceeasi categorie. Avea in brate cartea ei, splendida, la care a lucrat peste 1 an. Volumul ei este al XII-lea si participa pentru a IV-a oara la Gourmand CookBook Awards. Era clar momentul sa castige, dupa atata incercari. I-am apreciat munca si chiar ma gandeam ca ar fi atat de frumos sa castige Italia, tara atat de apropiata noua, cu o traditie culinara atat de bogata, reprezentata de un autor deosebit.
La fiecare categorie au fost nominalizate in finala 7 carti din tari diferite, dintre care doar una primea distinctia de "Best in the World!".
La categoria mea, "Best Tv Chef Book- Europe", au participat cartile unor autori care fie sunt cunoscuti in tara lor drept oameni de televiziune/celebritati, dar au pasiune pentru gatit, fie sunt chefi care au show-uri tv sau restaurante. Au fost selectionati autori care erau la prima publicatie, ca si mine, sau altii, precum Italia, care era la a XII -a carte.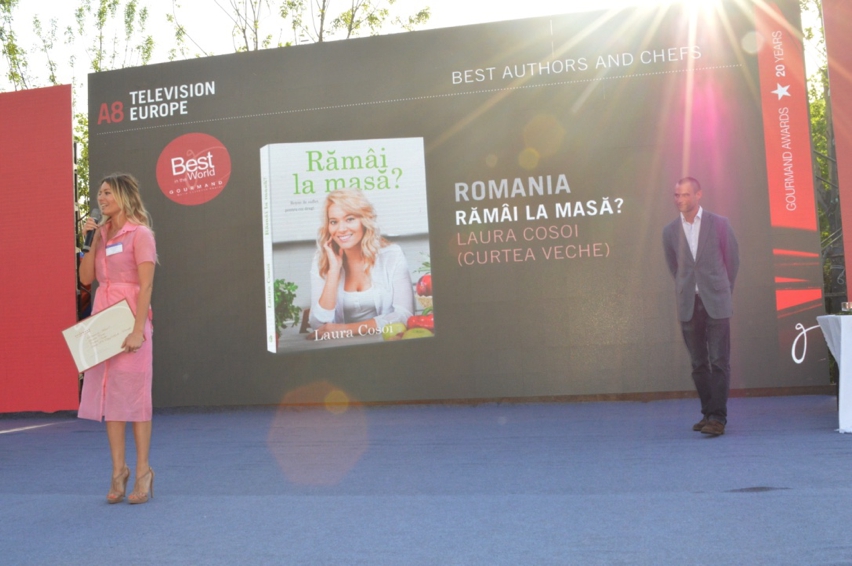 Au insirat nominalizarile si in momentul in care au strigat Romania, eu ma uitam in alte parte, cautand castigatorul din privire.
Nu pot sa-ti descriu emotia traita cand am realizat ca este vorba despre tara mea! Nu stiam ce trebuie sa fac, sa spun, daca sa vorbesc din public, sau sa urc pe scena. Imi tremurau picioarele atat de tare ca nu puteam sa fac niciun pas. Aplauzele si incurajarilor celor din jur m-au trezit putin la realitate si astfel am reusit sa ajung pe scena. In spatele meu era coperta "Ramai la masa?" si Romania cat se putea de mare. M-am mobilizat si am reusit sa leg cateva vorbe fiind in continuare extrem de emotionata. Nici o secunda nu mi-am imaginat ca volumul meu va fi cel ales drept marele castigator, cu atat mai mult cu cat se lupta cu tari importante, autori cu renume si foarte multa experienta din Italia, Franta, Polonia, Grecia, Rusia, Spania.
Asadar ma simteam atat de mica pe scena, dar fericita! Speach-ul meu a fost unul improvizat, dar suna cam asa: "Sunt foarte emotionata si surprinsa de acest premiu, multumesc Gourmand pentru sansa acordata, sunt mandra sa reprezint Romania, stiu ca nu se observa, dar mananc si gatesc (aici am incercat sa fac o gluma – la care s-a si ras) si as vrea sa-i dedic acest premiu viitorului meu sot, Multumesc!
Cam atat am reusit sa spun si apoi am coborat de pe scena tremurand in continuare, cu zambetul pe buze ma uitam in toate directiile incercand sa primesc confirmarea ca nu visez.
Astfel, Ramai la masa? a fost desemnata cartea Best in the World!
A fost magic si ii multumesc lui Dumnezeu in fiecare zi pentru tot ce traisc, toate aceste momente pe care nu le voi uita niciodata!
As vrea sa multumesc in special tuturor celor care au crezut in mine si m-au incurajat, familiei care mi-a fost alaturi de fiecare data, editurii "Curtea Veche", care mi-a oferit sansa de a scoate aceast jurnal culinar, agentiei mele, Talentivity, care ma sustine cu atata drag, Vola.ro ca mi-a oferit sustinerea lor, dar mai ales celor de la Gourmand, presedintelui Edouard Cointreau si juriului care a crezut in acest proiect atat de important sufletului meu. Sunt cu adevarat magulita si foarte fericita pentru aceste experiente unice in viata!
Iti multumesc tie, cititorule, ca esti langa mine!
P.S: La eveniment am purtat o rochie semnata de Murmur (Andreea Badala) care se pare ca mi-a purtat noroc!!! :)
– EN –
Woke up with a big smile on my face, still having a hard time believing that I actually won the big award and that I am going home with a trophy for my Romania. Last night, looking all around me, I closely watched the heavyweights of the industry, regular participants in this competition, and thought about just how lucky I am to count myself among them!
Founded 20 years ago, the Gourmand Awards have practically lain the foundation of the entire cookbook industry, and this annual ceremony is the major event in the cookbook world. Edouard Cointreau, the founder of the Gourmand World Cookbook Awards, is the heir of the famous Cointreau empire in France (world renowned for its eponymous liqueur and cognac), president of the World Association of Food TV Producers and president of honour of China Food Television. The winning titles will be showcased at the Frankfurt Book Fair, October 14-18, 2015.
Here I have met wonderful people, true professionals, for whom the passion for the culinary art and for cookbooks knows no bounds. Among participants were people from all over the world, interesting people, smiling, friendly, wearing folk costumes, proudly representing their countries. I've spent a wonderful day in their company, sharing opinions on the world of books, travelling and the specific aspects of their cuisine. We attended conferences, press meetings, gave interviews and tested different dishes.
To me, the fact that I was part of the beautiful Gourmand story was enough. The awards ceremony was a reason to see the authors in all their glory, going onstage, describing their projects, being grateful for their awards. I joyfully applauded each one of them because I knew just how much hard work they had put into their projects.
I took a seat near Csaba dalla Zorza, from Italy, who took part in the same category as me. Her gorgeous book, over one year in the making, was in her lap. It was her 12th book and the fourth time she participated in the Gourmand Awards. It was her moment. I appreciated her work and really thought that it would be nice if Italy won, a country so kindred in spirit to ours, with such a rich culinary tradition, represented here by a great author.
There were seven nominees in every category, seven books from seven different countries, and only one was to receive the "Best in the World" award.
In my category, "Best TV Chef Book – Europe", have participated books whose writers were either TV people or celebrities with a passion for cooking, or chefs who have TV shows or work in restaurants. The selection included authors who were at their first publication, as well as more experienced ones, as was the case for Italy.
They read the nominees and the moment they said "Romania", they caught me looking around me, searching for the winner.
Words cannot describe what I felt the moment I finally realized that it was my country they had selected! I didn't know what to do or say, if I should speak from the audience or go on the stage. My legs were shaking so hard that I could not move. The applause and cheers from the crowd helped me realize what was going on and finally managed to get onstage. Behind me was the cover of "Will You Stay For Dinner?" and "Romania" written in huge letters. Somehow I managed to get a hold of myself and say a few words. I didn't expect to win, not even for a second, as I was up against renowned and experienced authors from Italy, France, Poland, Greece, Russia and Spain.
I felt so little on that stage, but so, so happy! I made my speech on the spot: "I am very thrilled and surprised by this award, and I would like to thank Gourmand for this incredible opportunity. I am proud to represent Romania on this international stage and you must know that even though I don't show it, I eat and I cook (I tried to make a joke here and it really worked – people laughed). I woud like to dedicate this award to my future husband. Thank you!"
That is about all I could say and got off the stage still shaking, smiling, and looking at the audience, trying to get the confirmation that I wasn't dreaming. Thus, "Will You Stay For Dinner?" was designated Best in the World!
It was pure magic and I thank God every day for everything I experience, all these moments that I will never forget!
I would like to give a special thanks to all of those who believed in me and supported me, to my family who stood by me no matter what, to my publisher Curtea Veche, who offered me the chance to print this culinary diary, to my agency Talentivity who are always there for me, Vola.ro who offered me their support, but especially those from Gourmand, the president, Edouard Cointreau, and the jury who believed in this project I cherish so much. I am truly flattered and thankful for these unique experiences!
And I thank you, dear reader, for always being by my side.
P.S.: At the ceremony, I wore a dress by Murmur (Andreea Badala). Apparently, it brought me luck!!! :)