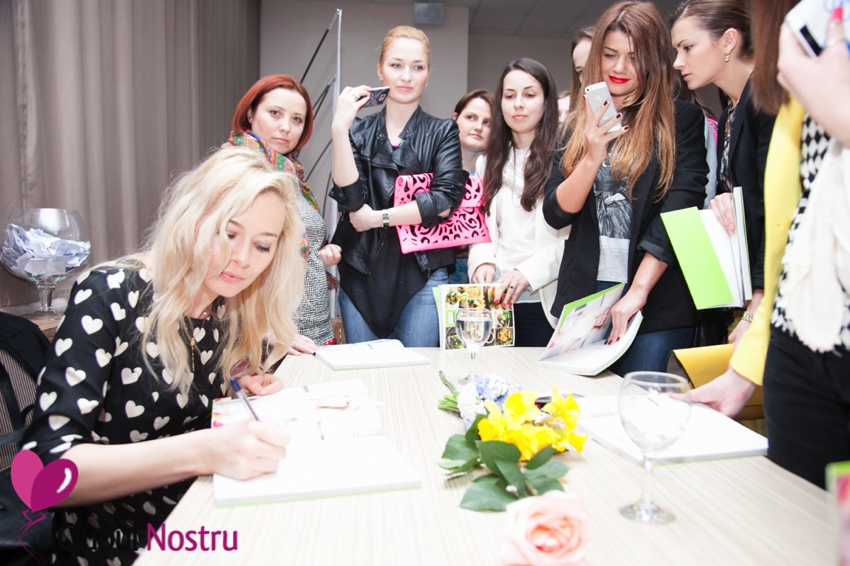 Dupa multi ani am ajuns la Chisinau, cu prilejul lansarii "Ramai la masa?".
Dupa un zbor cu un avion cat un microbuz, am aterizat pe taram moldovenesc unde am fost intampinata cu admiratie si dragoste.
O parte din mine este Basarabia si spun asta pentru ca bunicul meu era din Viprova, un sat din apropierea Chisinaului. Asadar, vizita mea a fost, ca acasa. :)
Doina Cernavca (Clubul Nostru), m-a rasfatat o zi intreaga, aratanadu-mi astfel cat de inimosi sunt moldovenii. Mi-am inceput ziua cu un mic dejun delicios din care nu a lipsit hrisca cu lapte si miere. Pe vremea cand faceam dans sportiv si participam la compentitiile din Chisinau, hrisca era nelipsita de pe masa rudelor mele pe care le vizitam cu acele ocazii. Stand la povesti cu Doina mi-a venit in minte si gustul borsului rusesc pe care l-am si incercat la masa de pranz.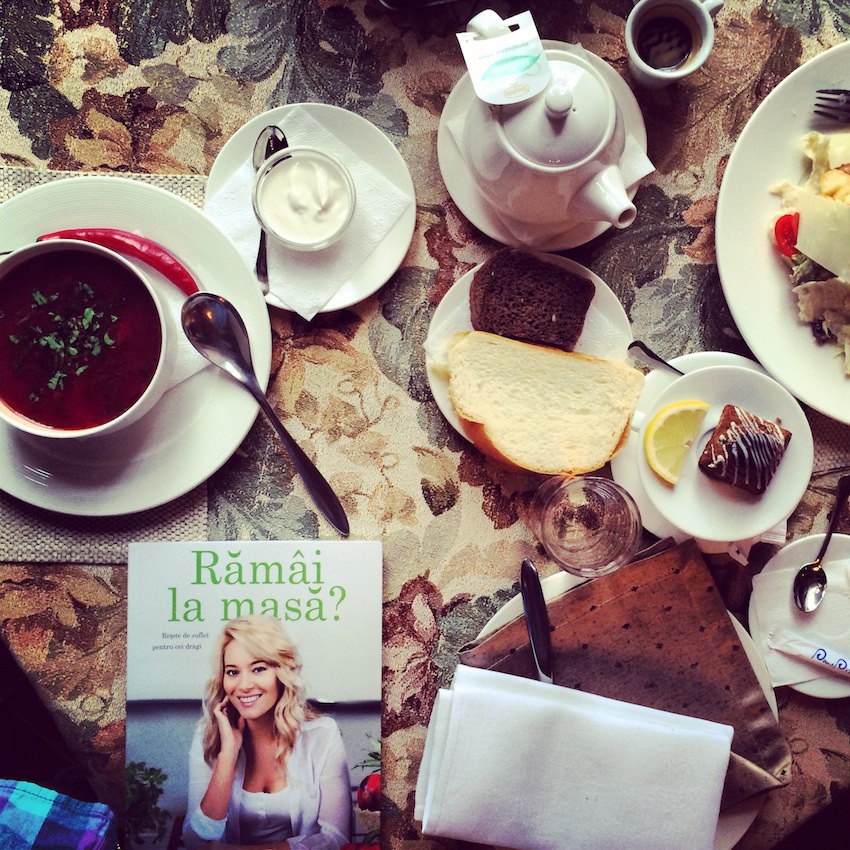 Dupa multi ani, am regasit Chisinaul foarte interesant. Desi nu l-am vizitat asa cu mi-as fi dorit, atentia mi-a fost captata de arhitectura cladirilor, dar si magazinele care aveau trecute in vitrina ofertele in limba rusa.
Dupa ce am dat un interviu la Prime Tv, am pornit spre locul lansarii. M-au intampinat peste 200 de prietene frumoase, elegante, distinse si mai presus de toate, sufletiste.
Stiau multe despre mine si desi intalnirea trebuia sa tina doua ore,  noi am povestit vreo patru si nu m-as mai fi saturat.
A fost o lansare cu totul si cu totul speciala, cu oameni deosebiti, cu discutii interesante si cu multe carti vandute! :)
As vrea sa ii multumesc Doinei Cernavca pentru ziua splendida petrecuta in Chisinau, dar si celor care mi-au fost alaturi in seara speciala a lansarii "Ramai la masa?" . Cu mare drag am sa revin pe meleagurile voastre, dragile mele prietene!
Dupa lansarea de la Chisinau, am pornit spre Iasi, dar nu oricum ci "incarcata" cu bomboane de la "Bucuria" pentru fratii mei, dar si cu cateva kilograme bune de hrisca pe care de-abia astept sa o testez in fel si fel de retete.
Urmeaza sa iti povestesc despre lansarea de la Iasi, care mi-a oferit nenumarate surprize si momente emotionante!
Rochia din imaginile surprinse de Natalia Mitereva (Fotoroom) este de la TopShop!
– EN –
After many years I returned to Chișinău, during the "Will You Stay For Dinner?" book launch.
Following a flight aboard a plane the size of a van, I landed on Moldavian land where I have been welcomed with love and admiration.
Bessarabia is a part of me and I am saying that because my grandfather came from Viprova, a village near Chișinău. Thus, my visit felt a lot like being home. :)
Doina Cernavca (founder of "Clubul Nostru" – Our Club) spoiled me for an entire day, showing me, by power of example, just how warm-hearted Moldavians are. I kickstarted the day with a delicious breakfast that included buckwheat with milk and honey. Back when I was doing sportive dance and took part in competitions in Chișinău, I used to visit my relatives and there would always be buckwheat on the table. While talking about this and that with Doina, I suddenly remembered the taste of Russian borsch and had to try some for lunch.
After many years, I rediscovered Chișinău and found it very interesting. Although I didn't have enough time to visit as much as I would have liked to, I was nonetheless captivated by the architecture of its buildings and also by the shop windows that had the offers available written in Russian.
After an interview for Prime Tv, I headed to the book launch venue. There I was welcomed by over 200 gorgeous, elegant, fashionable and, most important of all, caring friends.
They knew many things about me and even though the event was meant to last only two hours, we chat it up for four hours and still couldn't get enough.
It was indeed a very special book launch, full of wonderful people, interesting conversations and many books sold! :)
I would like to thank Doina Cernavca for this beautiful day in Chișinău and also everyone present at this special evening at the "Will You Stay For Dinner?" book launch. It would give me great pleasure to meet you all again here in Chișinău, dear friends!
After the book launch I headed off to Iași "loaded" with Bucuria candies for my brothers and lots of buckwheat that I was excited to try in all sorts of recipes.
I will soon tell you all about the book launch in Iași, a launch that proved to be one full of surprises and moving moments!
The dress in the photos, snapped by Natalia Mitereva (Fotoroom), is from TopShop!