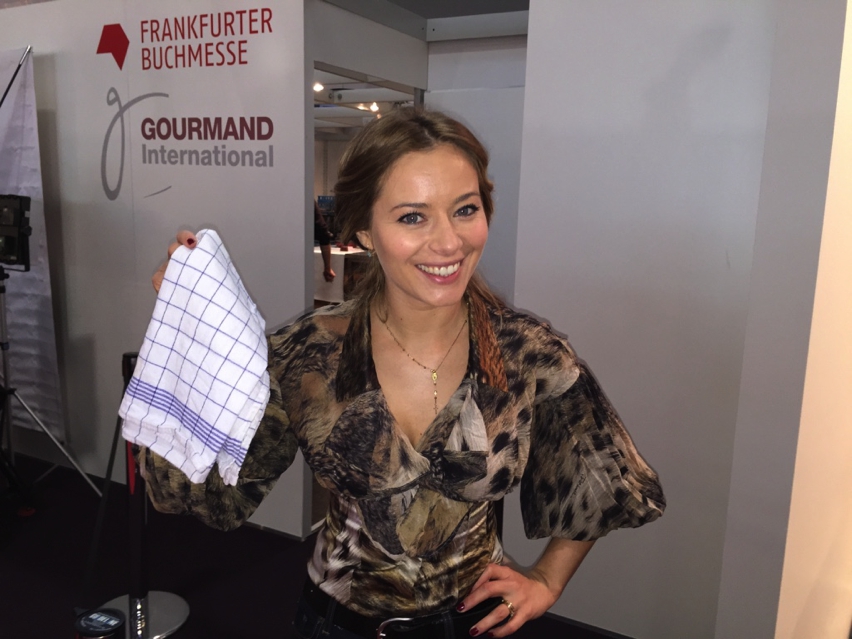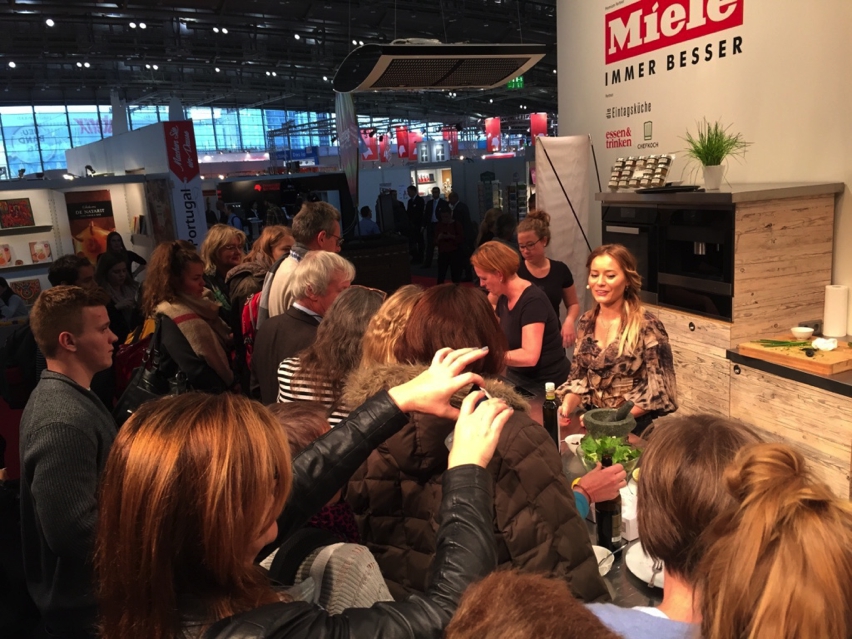 Am revenit ca sa-ti povestesc despre show-ul de cooking pe care l-am gandit pentru prezentarea jurnalului culinar "Ramai la Masa?". 
Am ales ca tema "Red Carpet in My Kitchen", ca sa fac inteles inca de la bun inceput faptul  ca nu sunt un chef. Am pregatit o filmare de tip reel, in care am prezentat in imagini o parte din lucrurile pe care le fac eu, prin meseria pe care o practic. Am montat secvente din filmele in care am jucat, making of-uri, video-uri si multe altele, aceste imagini fiind vizibile pe un ecran, in public. Dintre toti cei participanti la targ, dintre toti autorii, doar cativa au avut privilegiul de a face demonstratia de gatit si printre ei m-am aflat si eu, datorita premiul "Best in the World- Best Tv Chef Book Europe" oferit de Gourmand. Aceasta demonstratie s-a adresat direct editorilor din intreaga lume, care au venit la "vanatoare" de drepturi de autori, targul fiind unul cu circuit inchis in primele zile si deschis pentru publicul larg doar sambata si duminica! 
M-am gandit sa le prepar ceva usor si sofisticat in acelasi timp. Am ales sa fac salata de sparanghel crud cu parmezan si muguri de pin, dar si "sa rezolv", impreuna cu cei din public, cubul Rubik, cat timp ciocanelele de pui erau la cuptor.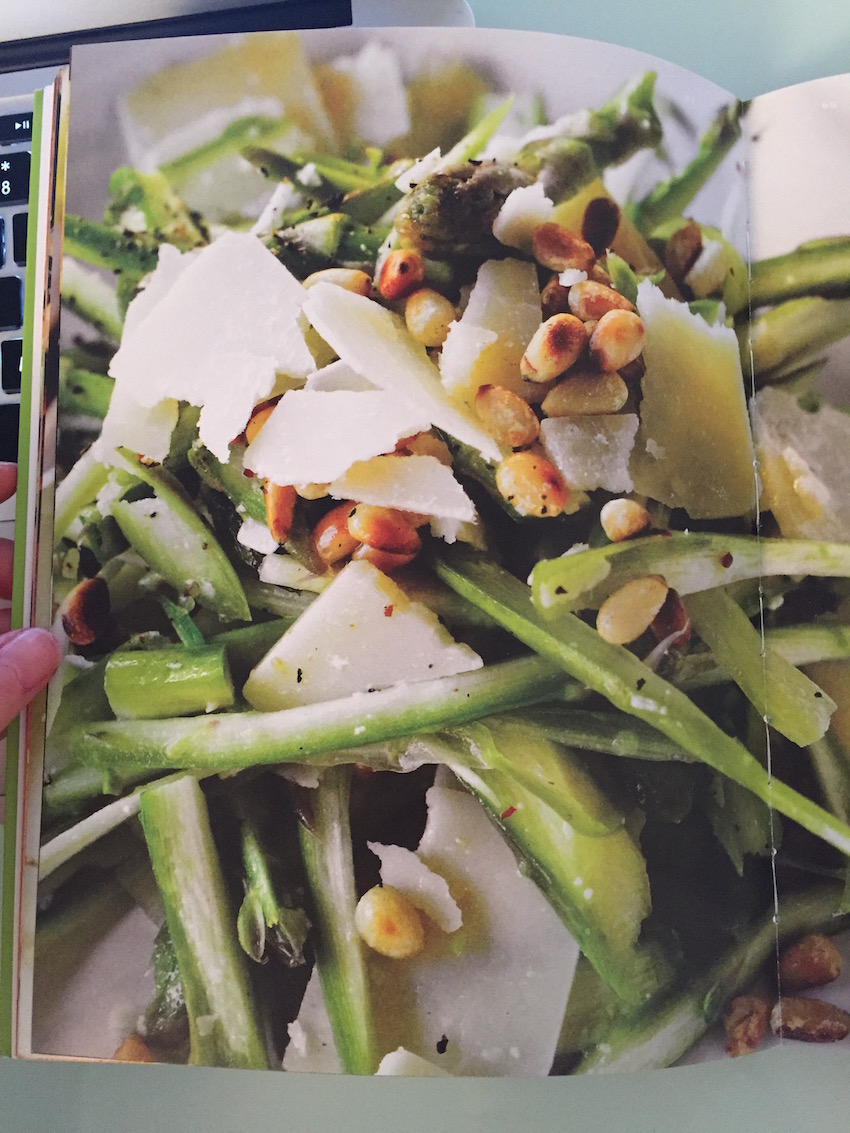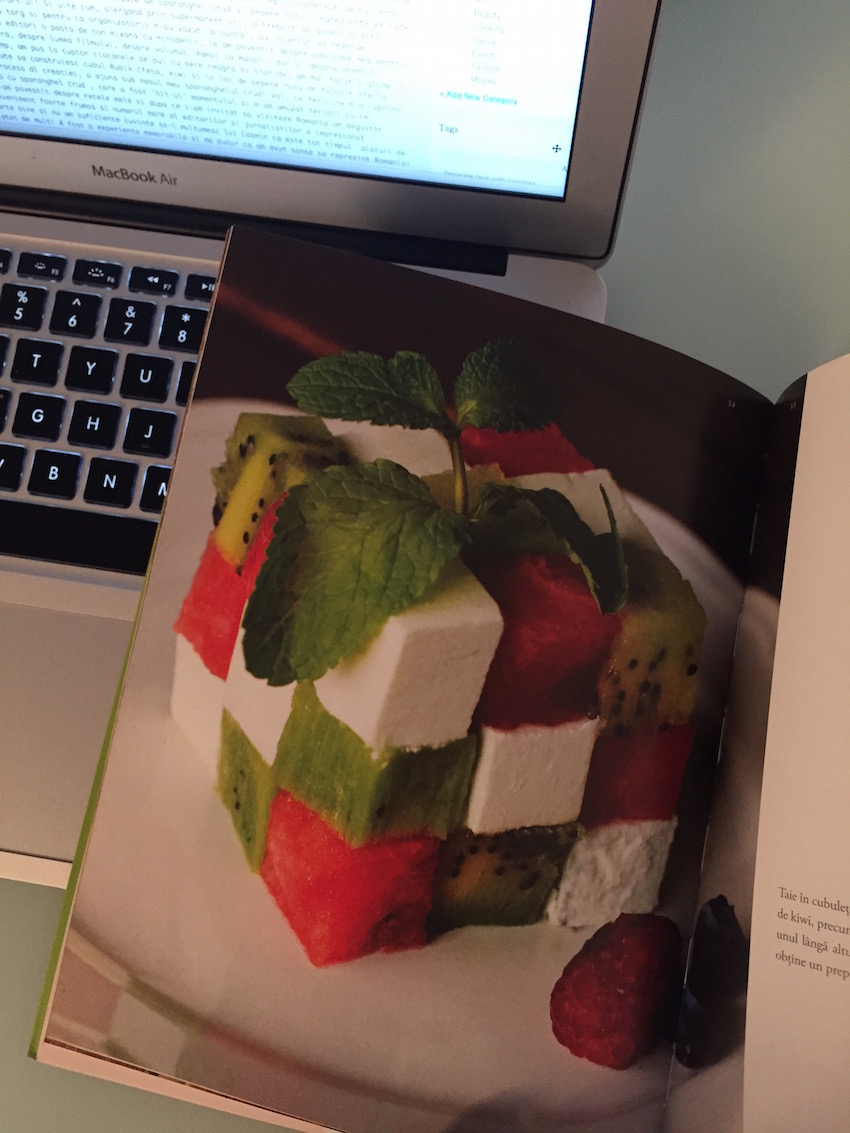 Ei bine, pentru cele doua retete (salata si cub) aveam nevoie de sparanghel crud si pepene rosu, ingrediente pe care insa nu le-am gasit nicaieri, in tot Frankfurt-ul! Si uite cum, alergand prin supermarket-uri, a trebuit sa gasesc o alta solutie pentru retetele mele. Am ajuns la targ si pentru ca organizatorii m-au vazut "plouata", au incercat sa rezolve problema! 
Intre timp, am pregatit pentru editori o pasta de ton mixata cu mirodenii, le-am povestit despre pasiunea mea pentru gatit, despre calatoriile care ma inspira, despre lumea filmului, despre volumul "Ramai la masa?", dar si despre premiul Gourmand "Best In The World". Intre timp, am pus la cuptor ciocanele de pui cu bere neagra si stafide, am mai facut o gluma, i-am invitat pe cei din public sa ma ajute sa construiesc cubul Rubik (feta, kiwi si in loc de pepene rosu am folosit sfecla rosie) si, cand eram in plin proces al creatiei, a ajuns sub nasul meu sparanghelul crud! Vai, ce fericire m-a cuprins! Am reusit astfel sa le fac si salata cu sparanghel crud , care a fost "hit-ul" momentului si m-am amuzat teribil cu cei prezenti de intamplare! Dupe ce le-am povestit despre retele mele si dupa ce i-am invitat sa viziteze Romania am degustat impreuna preparatele!
A iesit un eveniment foarte frumos si numarul mare al editorilor si jurnalistilor a impresionat organizatorii. Eu m-am simtit foarte bine si nu am suficiente cuvinte sa-i multumesc lui Cosmin ca este tot timpul  alaturi de mine, ca ma sustine si ma ajuta atat de mult! A fost o experienta memorabila si ma bucur ca am avut sansa sa reprezint Romania! Sunt tare mandra ca sunt romanca!
– EN –
I'm back to tell you all about the live cooking show I thought up for the presentation of my culinary diary "Will You Stay For Dinner?".
I chose the theme "Red Carpet in My Kitchen" in order to make myself perfectly understood – I am not a real chef. I prepared a reel video illustrating some of the things I do, from a professional standpoint. I assembled film clips from the movies I starred in, making-of's, videos and many other stuff. The video was presented on a screen, to the public.
Of all the participants at the fair, of all the authors, only a few have had the privilege of making a cooking demostration and I was one of them, due to the "Best in the World – Best Tv Chef Book Europe" Award presented to me by Gourmand. This demonstration was addressed directly to the publishers present there from all over the world, hunting for copyrights, the fair being a closed circuit during the first days and opened to the public only on Saturday and Sunday! I thought to prepare something light and sophisticated at the same time, so I decided to make a raw asparagus salad with Parmesan cheese and pine nuts, and to "solve", along with the audience, the Rubik's Cube, while the chicken drumsticks were in the oven.
However, in order to make the two recipes (the salad and the cube) I needed raw asparagus and watermelon, ingredients that we didn't seem to be able to find anywhere in Frankfurt! Thus, while running from one supermarket to another I had to come up with another solution for my recipes. Upon arriving at the fair, the organizers saw me looking a bit disheartened and so offered to try and fix the problem! Meanwhile, I prepared a tuna paste mixed with spices for the editors and told them about my passion for cooking, the journeys that inspire me, the world of movies, and also about my book "Will You Stay For Dinner?" and the Gourmand "Best In The World" Award.
Meanwhile, I put the chicken drumsticks with black beer and raisins in the oven, cracked some jokes, invited those in the audience to help me build the Rubik's Cube (feta, kiwi, and beetroot instead of watermelon) and, while I was in full creative process, the raw asparagus appeared right under my nose! Oh, wasn't I happy! Thus, I managed to make the raw asparagus salad, which was the "hit" of the moment, while laughing with the audience about the whole story! After I told them about my recipes and invited them to visit Romania, we tried the dishes together!
All in all, the event came out really well and the large numbers of editors and journalists in attendance impressed the organizers! I had a wonderful time and haven't got enough words to thank Cosmin for always being by my side, supporting and helping me so much! It was a memorable experience and I am glad I had the chance to represent Romania! I am so proud to be Romanian!