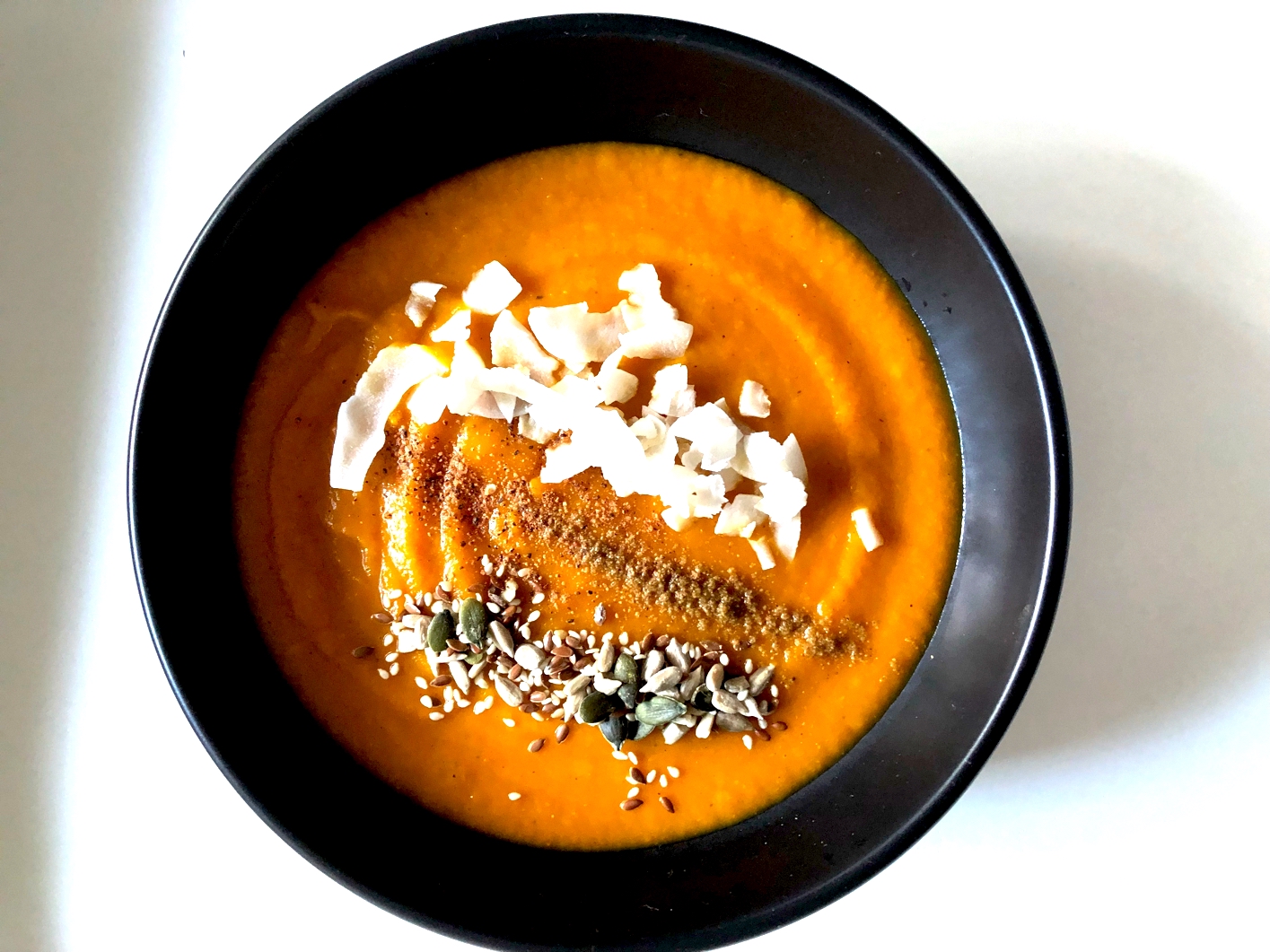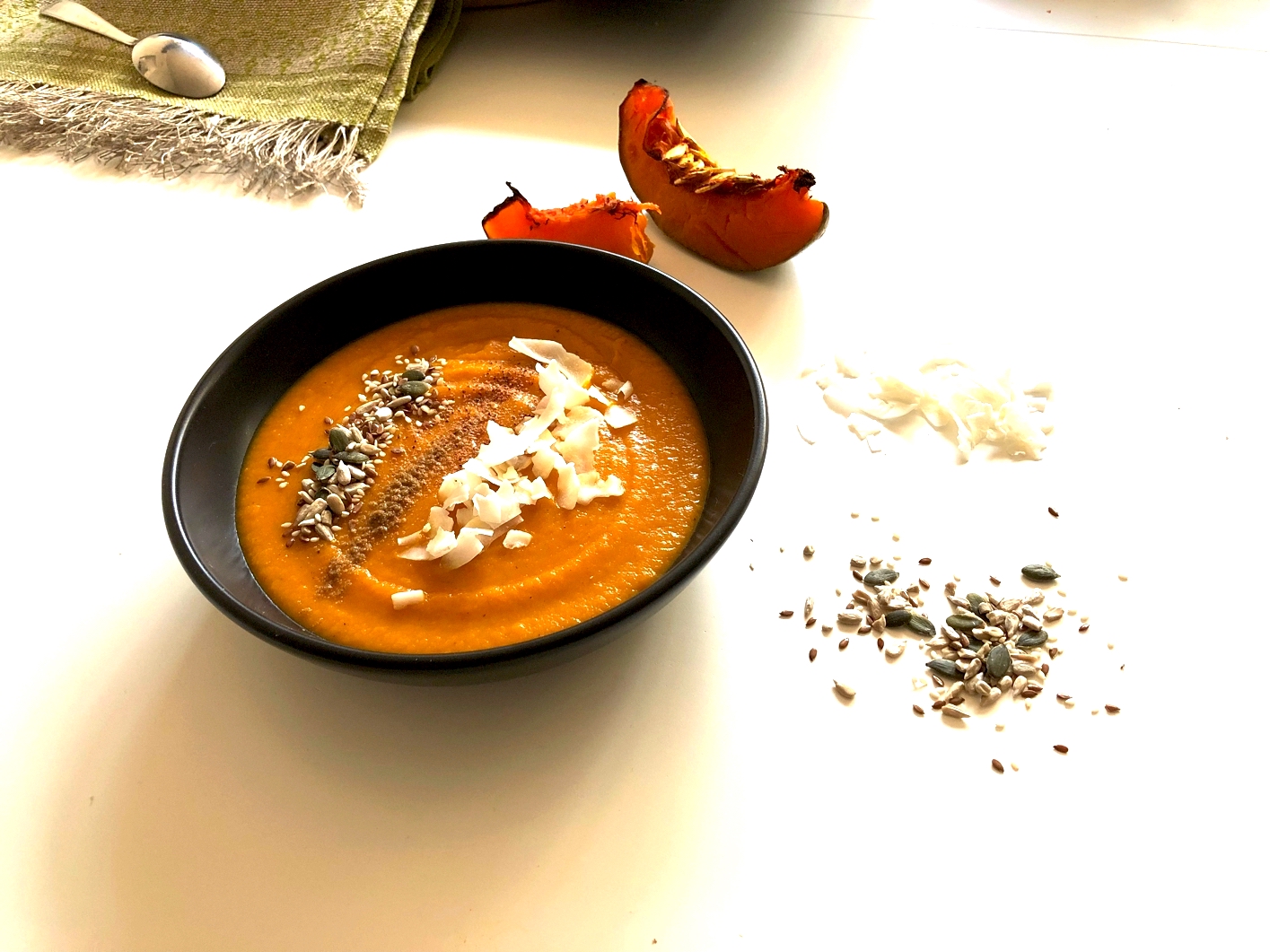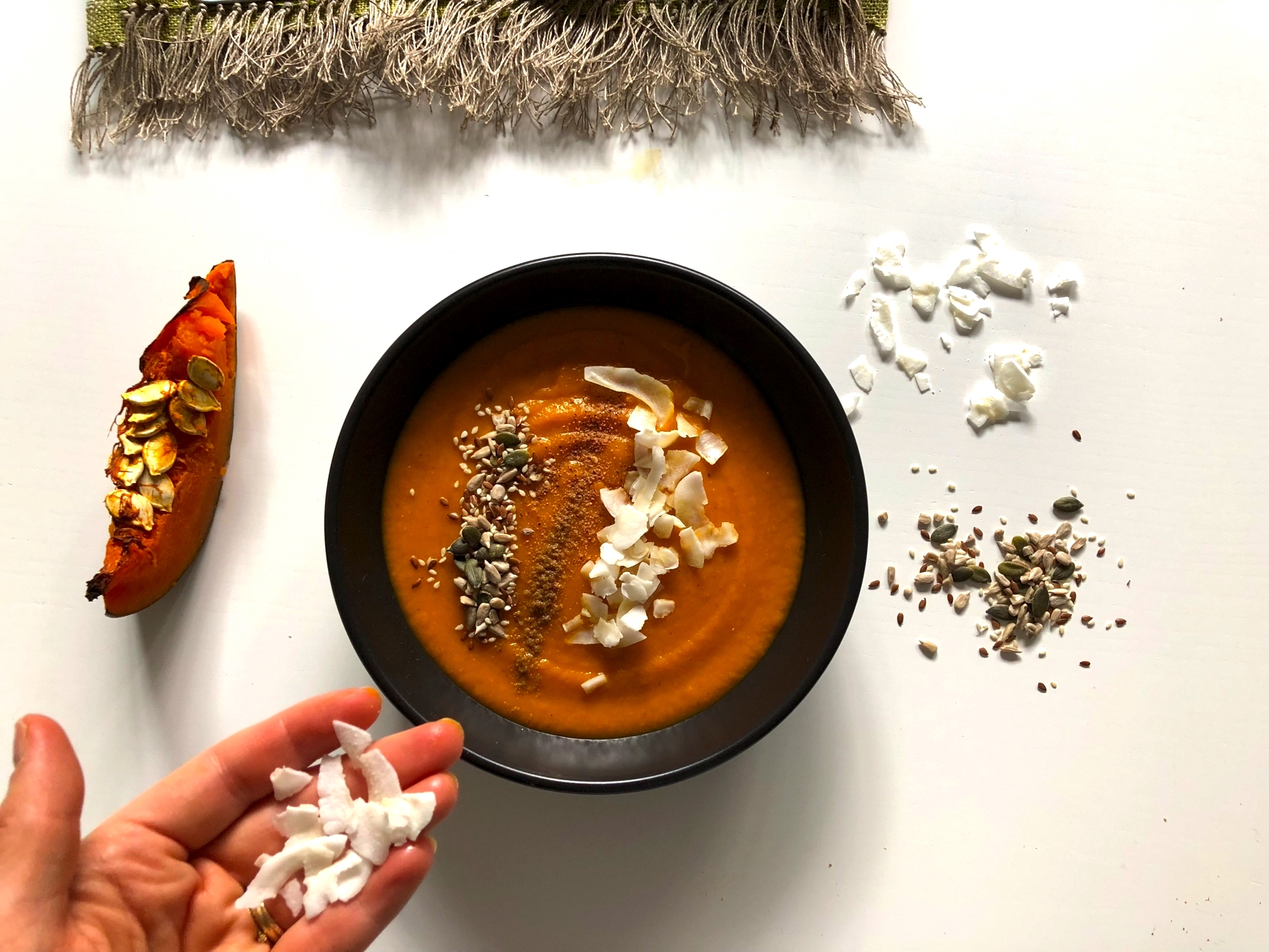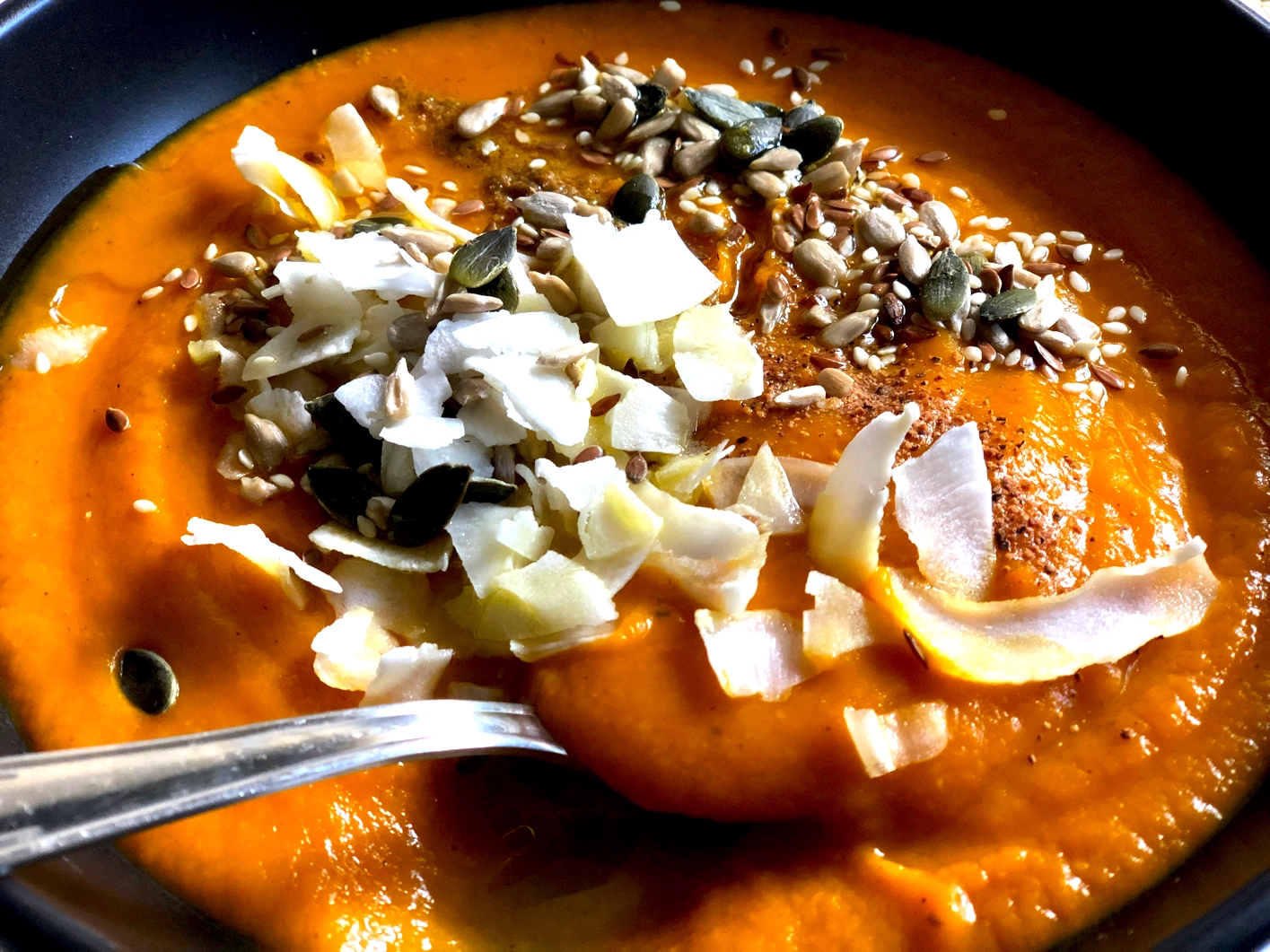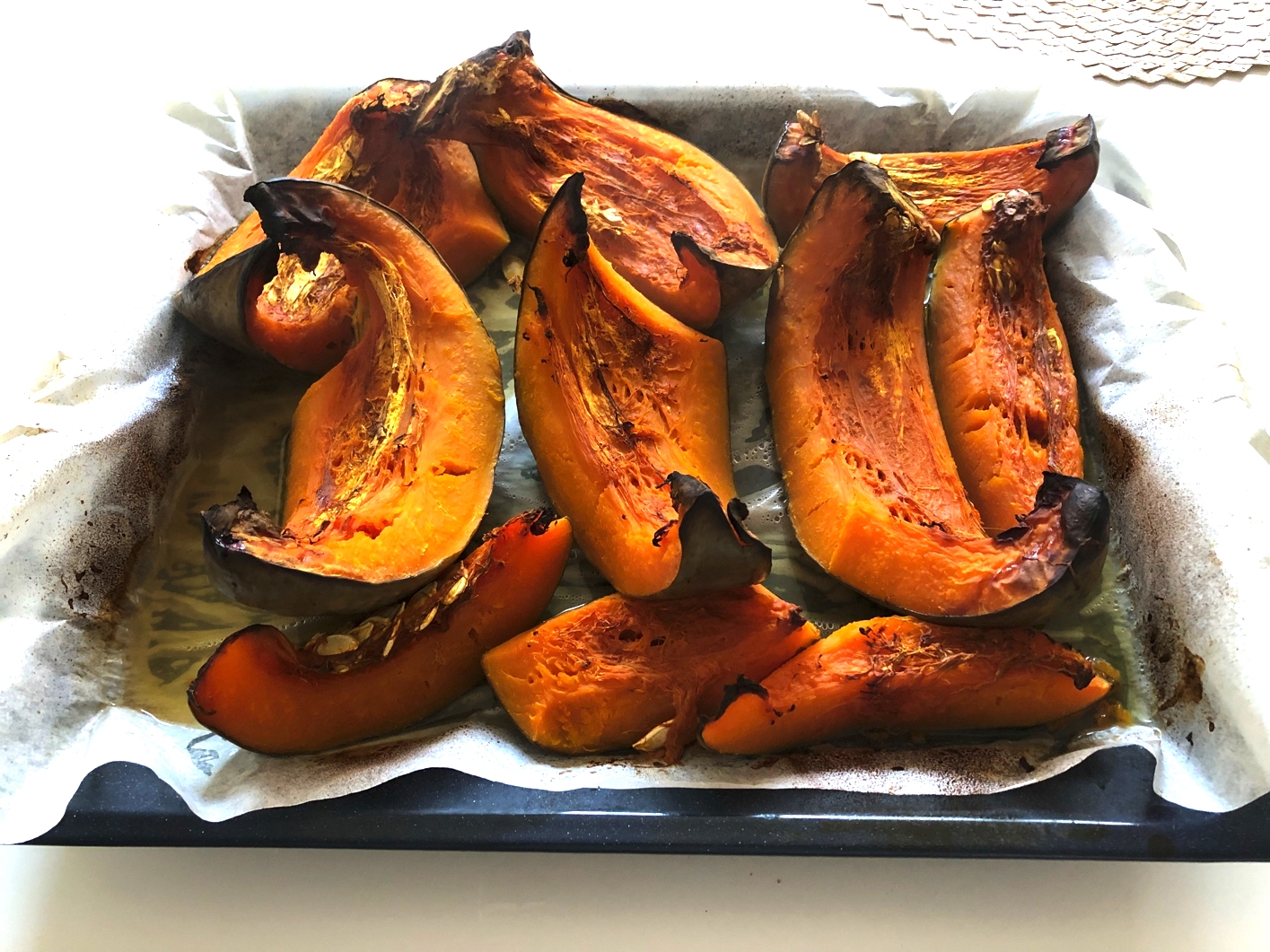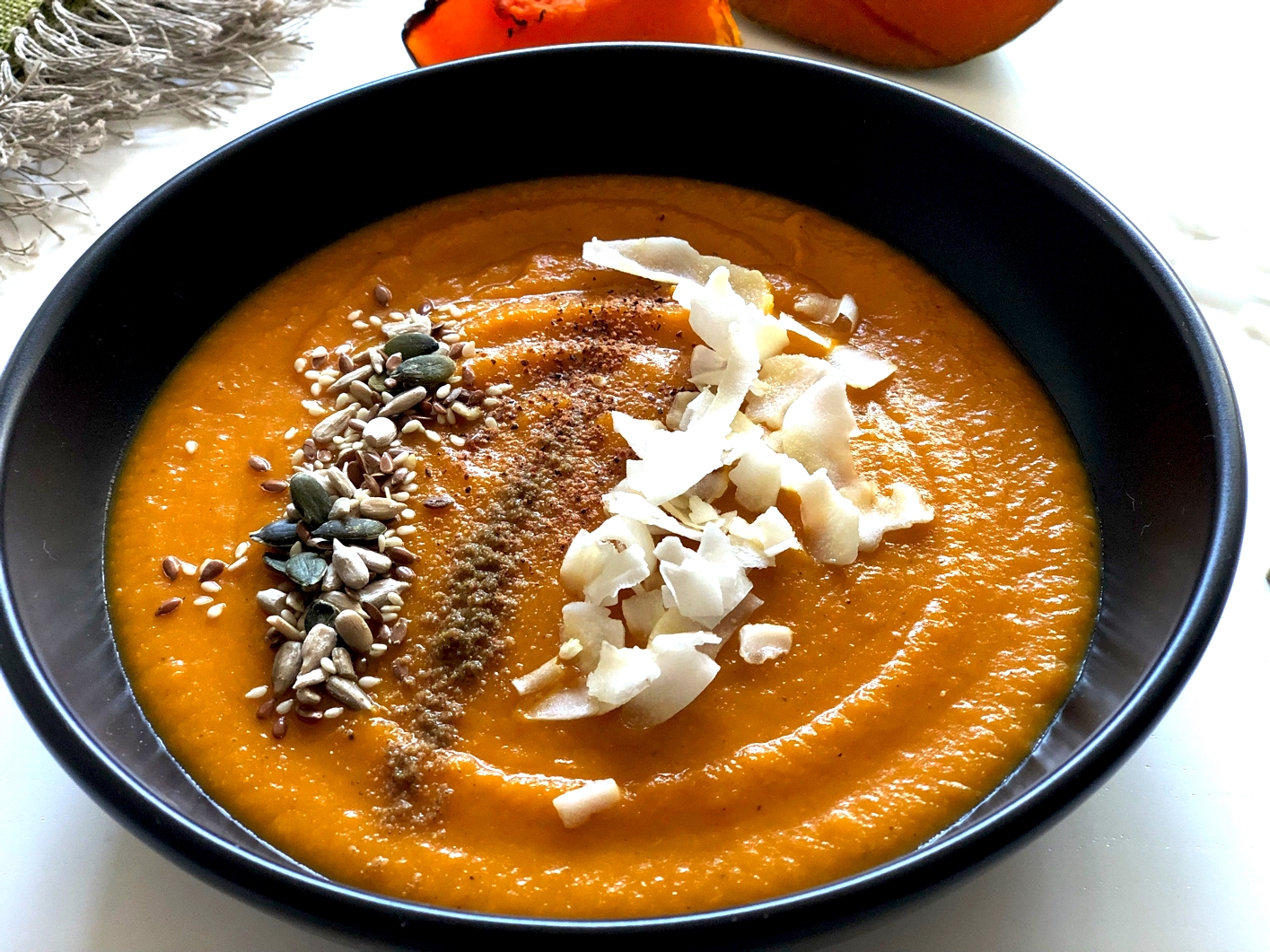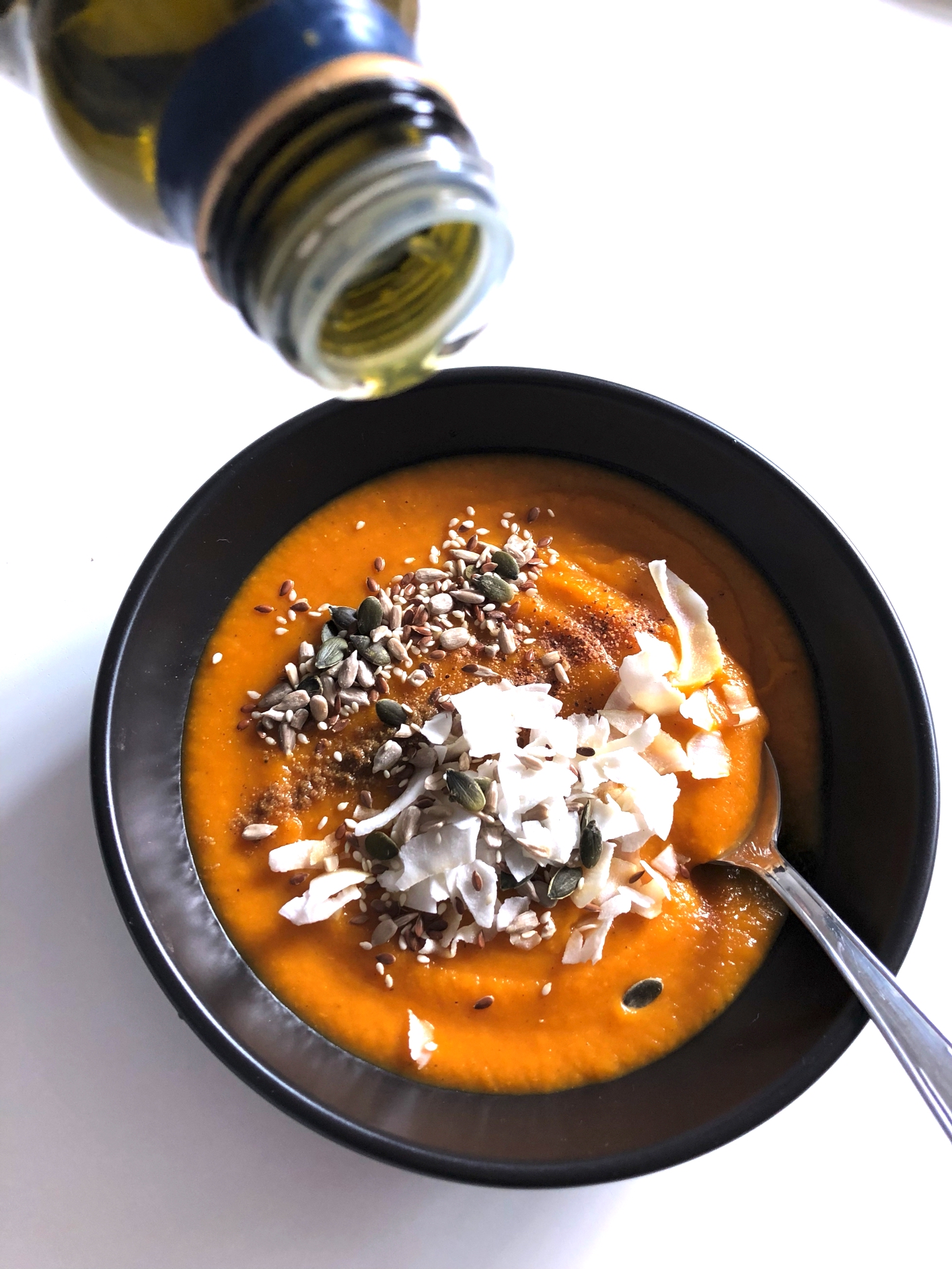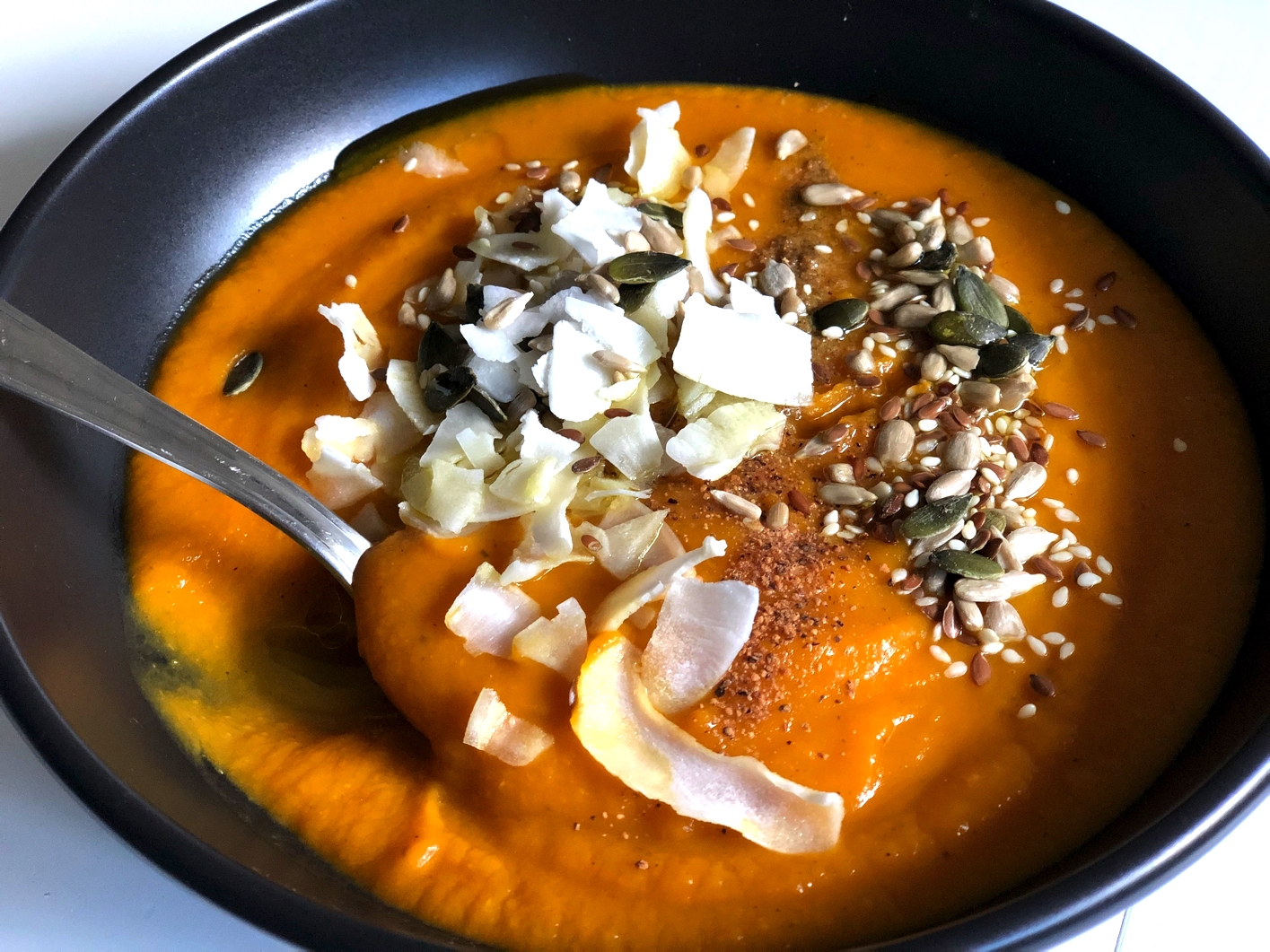 Ce mai mâncam ? Iata ce – o bunatate de sezon: supa-crema de dovleac cu ghimbir, un preparat bun pentru viitoare mamici si nu numai! Avem suficiente ingrediente sa gatim si iarna mancaruri sanatoase si foarte gustoase. Spre exemplu, aceasta supa-crema de dovleac ii inveseleste pe cei care se asaza la masa numai cand o vad! Cred ca datorita culorii ei solare se intampla asta. Iar cand o si gusta, se indragostesc definitiv de ea. Ma bucur, pentru ca este si foarte sanatoasa.  Dovleacul este potrivit pentru alimentatia femeilor insarcinate. Iar mai jos, poti descoperi 7 beneficii care transforma dovleacul intr-un aliment ideal in sarcina.
1. Dovleacul are putine calorii, dar este bogat in nutrienti. Adica te hraneste cu adevarat, fara insa sa te si ingrase. Ba mai mult, este recomandat pentru controlul greutatii corporale si al colesterolului.
2. Pentru sanatatea tractului digestiv dovleacul este un aliment ideal, pentru ca este foarte bogat in fibre. Asadar, previne cu succes constipatia.
3. Orice viitoare mama are nevoie de o alimentatie bogata in proteine, pentru dezvoltarea musculara normala a copilului, dar si pentru sanatatea ei. Iar dovleacul le furnizeaza din belsug!
4. Dupa cum se stie, fructele sau legumele de culoare portocalie contin mult betacaroten. Este recomandat ca femeile insarcinate sa consume alimente care contin betacaroten, pentru ca ajuta la dezvoltarea sistemului circulator, respirator si nervos al bebelusului.
5. Dovleacul ne ofera si o portie zdravana de vitamina B (B1, B2, B3, B5, B6, B9), care este atat de importanta in dezvoltarea normala a copilului. Acidul folic (vitamina B9) este esential mai ales la inceputul sarcinii. Deficitul de acid folic implica riscuri in dezvoltarea sistemului nervos al copilului. Eu le combat cu o portie de supa de dovleac!
6. E posibil ca in perioada sarcinii sa dormim mai agitat. Dovleacul are proprietatea de a induce un somn linistit, pentru ca este un calmant usor al sistemului nervos.
7. Pentru ca este un cocktail de minerale, vitamine, carbohidrati si acizi grași esențiali omega-3 și omega-6, dovleacul ne si energizeaza. Un aliment perfect pentru toata lumea, as zice!
Si pentru ca suntem in plin sezon al gripei, dar si pentru ca imi place iute (mai ales acum), am adaugat in supa-crema de dovleac si putin ghimbir! Ce zici? Ai dori o portie?
1 dovleac
2 lingurite ghimbir ras
2 morcovi
1 cartof
1/2 telina
1 ardei verde
2 frunze de telina
3 linguri seminte mix
1 lingurita cardamon
1/2 lingurita scortisoara
1 lingurita nucsoara
2 linguri ulei masline
Crutoane
1 catel usturoi
1 conserva lapte cocos
Fulgi cocos pt decor
Se fierb morcovii, cartoful, relina, frunzele de telina, ardeiul. Dovleavul se taie si se coace la cuptor 30-40 min
Se blenduiesc toate ingredinetele si se adauga lapte de cocos in functie de cat de groasa vrei sa fie supa crema.
EN: (google translate)
What else do we eat? Here's what a season's goodness: pumpkin soup with ginger, a good preparation for future moms and not only! We have enough ingredients to cook and healthy and tasty food in the winter. For example, this pumpkin soup cream invites those who sit at the table only when they see it! I think because of its solar color that's happening. And when she tastes it, she definitely falls for her. I'm glad, because she's very healthy too. Pumpkin is suitable for feeding pregnant women. And below, you can discover 7 benefits that turn the pumpkin into an ideal food in pregnancy.
1. Pumpkin has few calories but is rich in nutrients. I mean, it really nourishes you, without fattening you. Moreover, it is recommended for controlling body weight and cholesterol.
2. For the health of the digestive tract the pumpkin is an ideal food because it is very rich in fiber. So, it successfully prevents constipation.
3. Any future mother needs a high-protein diet for normal baby's muscular development, but also for her health. And the pumpkin provides them with plenty!
4. As it is known, orange fruits or vegetables contain much beta-carotene. It is recommended that pregnant women consume foods containing beta-carotene because they help to develop the baby's circulatory, respiratory and nervous system.
5. The pumpkin also offers a healthy portion of vitamin B (B1, B2, B3, B5, B6, B9), which is so important in the child's normal development. Folic acid (vitamin B9) is essential especially at the beginning of pregnancy. Folic acid deficiency involves risks in developing the baby's nervous system. I fight them with a serving of pumpkin soup!
6. It is possible that during the pregnancy we sleep more agitated. Pumpkin has the ability to induce a quiet sleep, because it is a light-hearted nerve system.
7. Because it is a cocktail of minerals, vitamins, carbohydrates and essential fatty acids omega-3 and omega-6, the pumpkin energizes us. A perfect food for everyone, I would say!
And because we are in the full season of influenza, but also because I like it fast (especially now), I added in pumpkin soup cream and a little ginger! What do you say? Would you like a serving?
1 pumpkin
2 teaspoons of raspberry ginger
2 carrots
1 potato
1/2 celery
1 green pepper
2 celery leaves
3 tablespoons mixed seeds
1 teaspoon of cardamom
1/2 teaspoon of cinnamon
1 teaspoon nutmeg
2 tablespoons olive oil
croutons
1 garlic dog
1 conserve coconut milk
Coconut flakes for decoration
Boil carrots, potatoes, reeds, celery leaves, pepper. Pumpkin is cut and baked for 30-40 minutes
Bake all the ingredients and add coconut milk depending on how thick you want to be the cream soup.