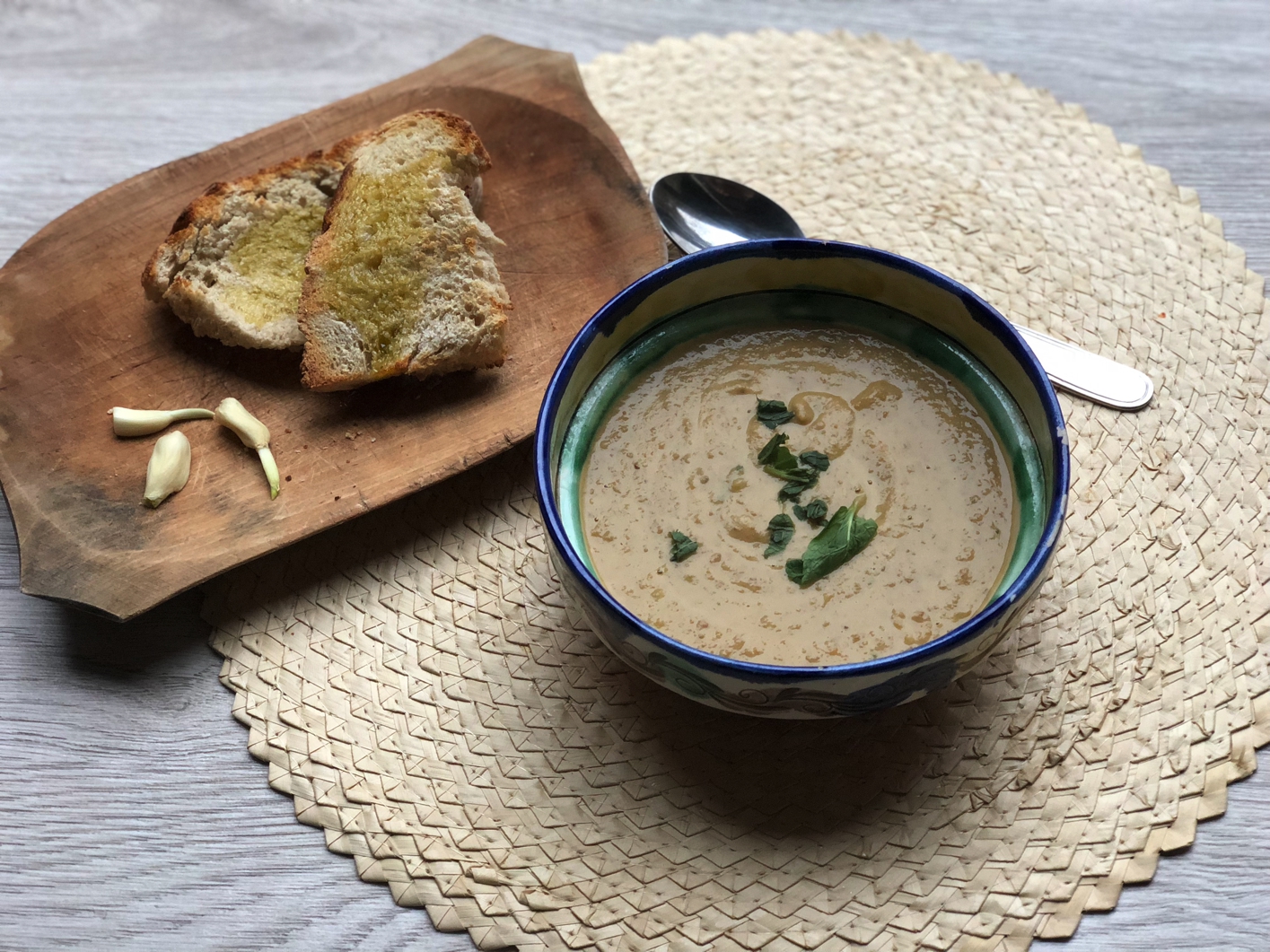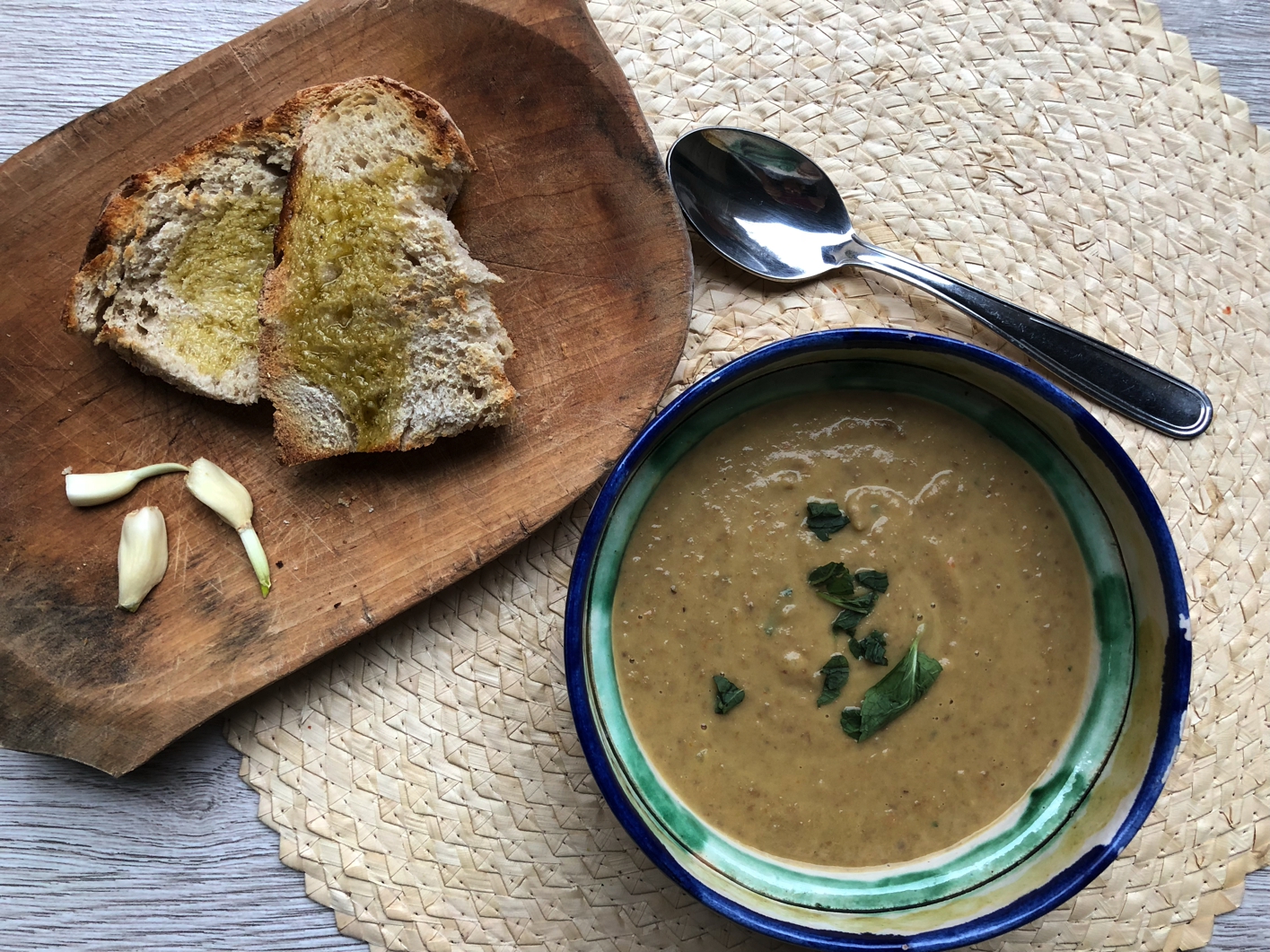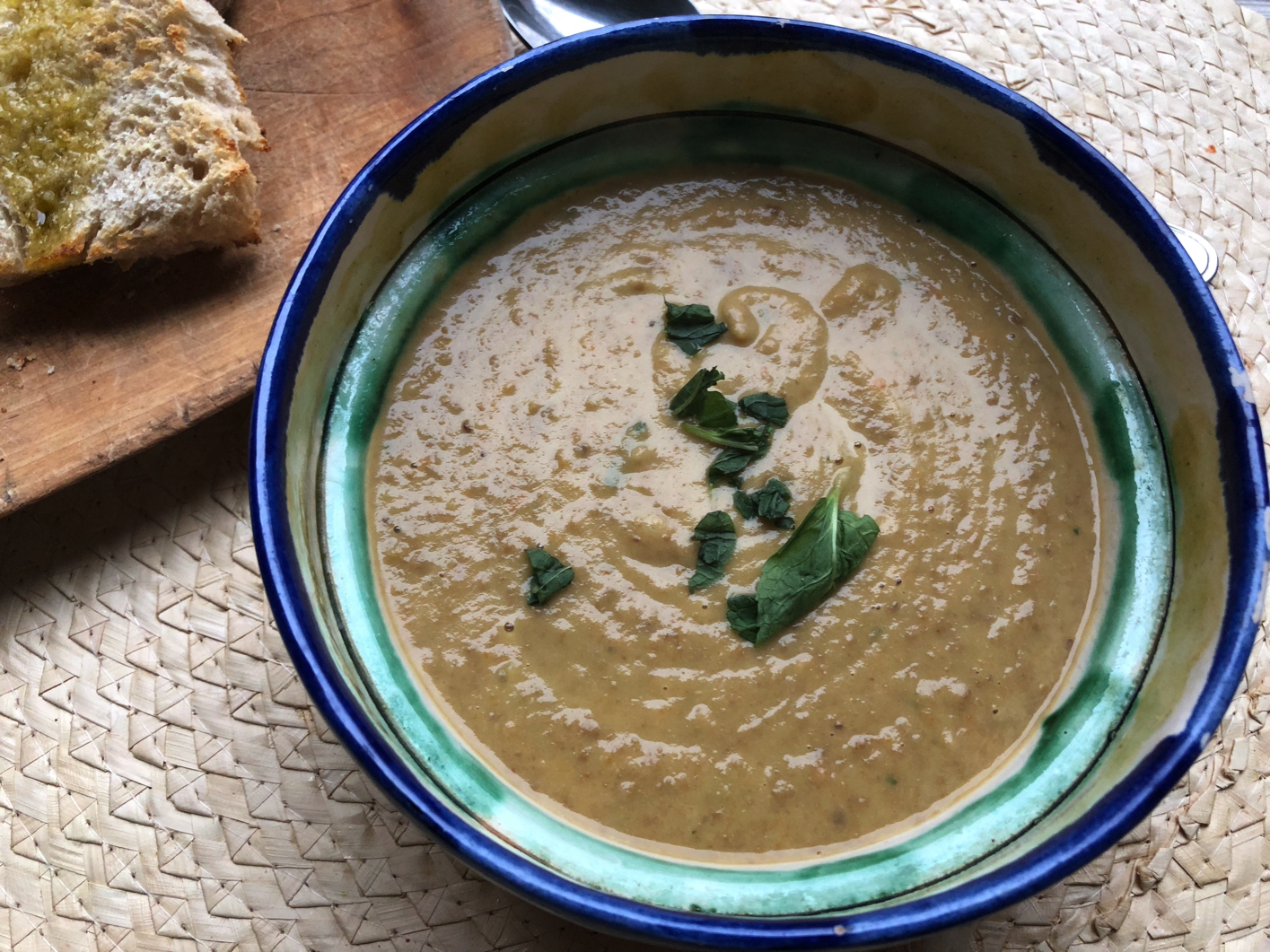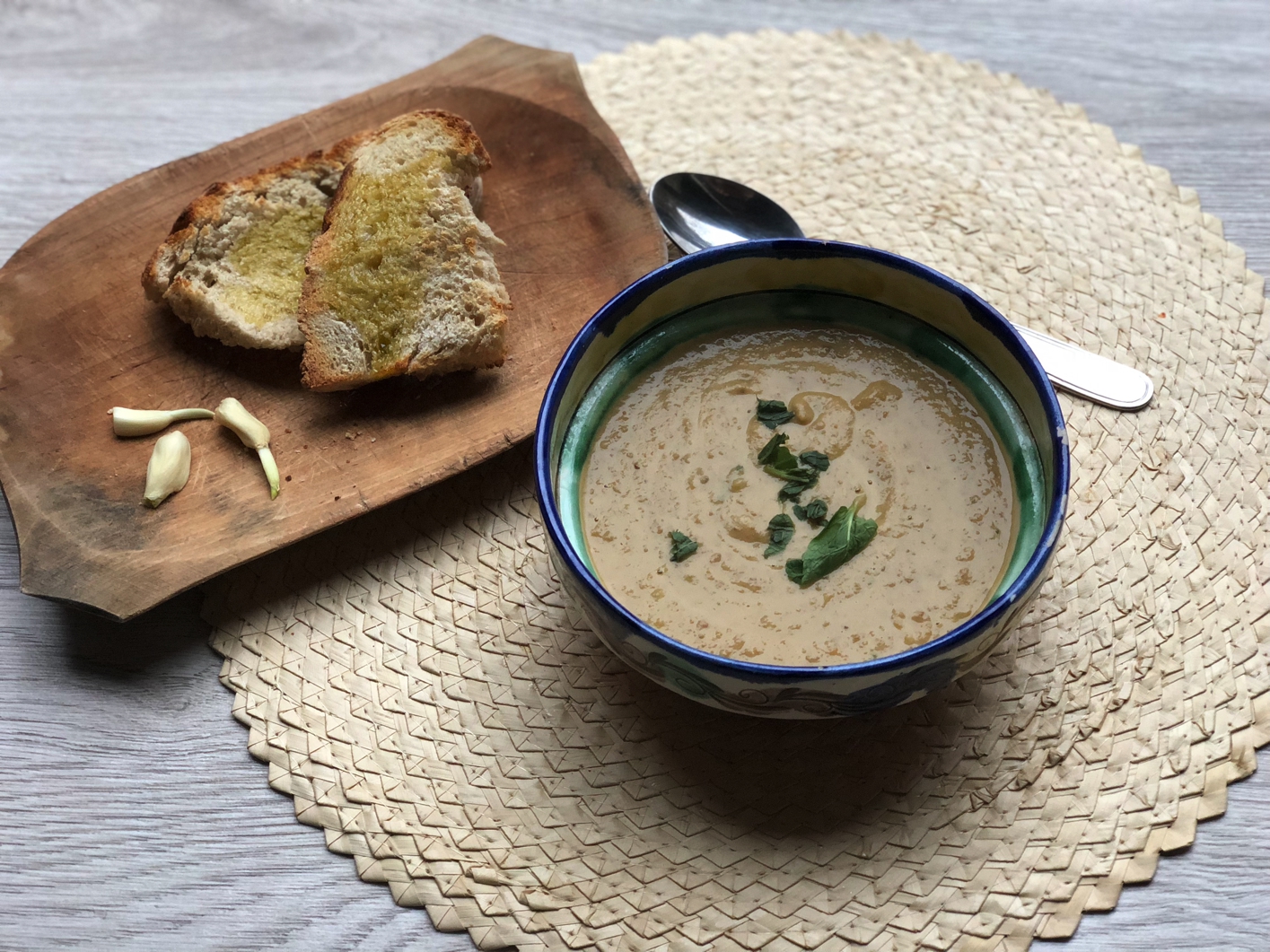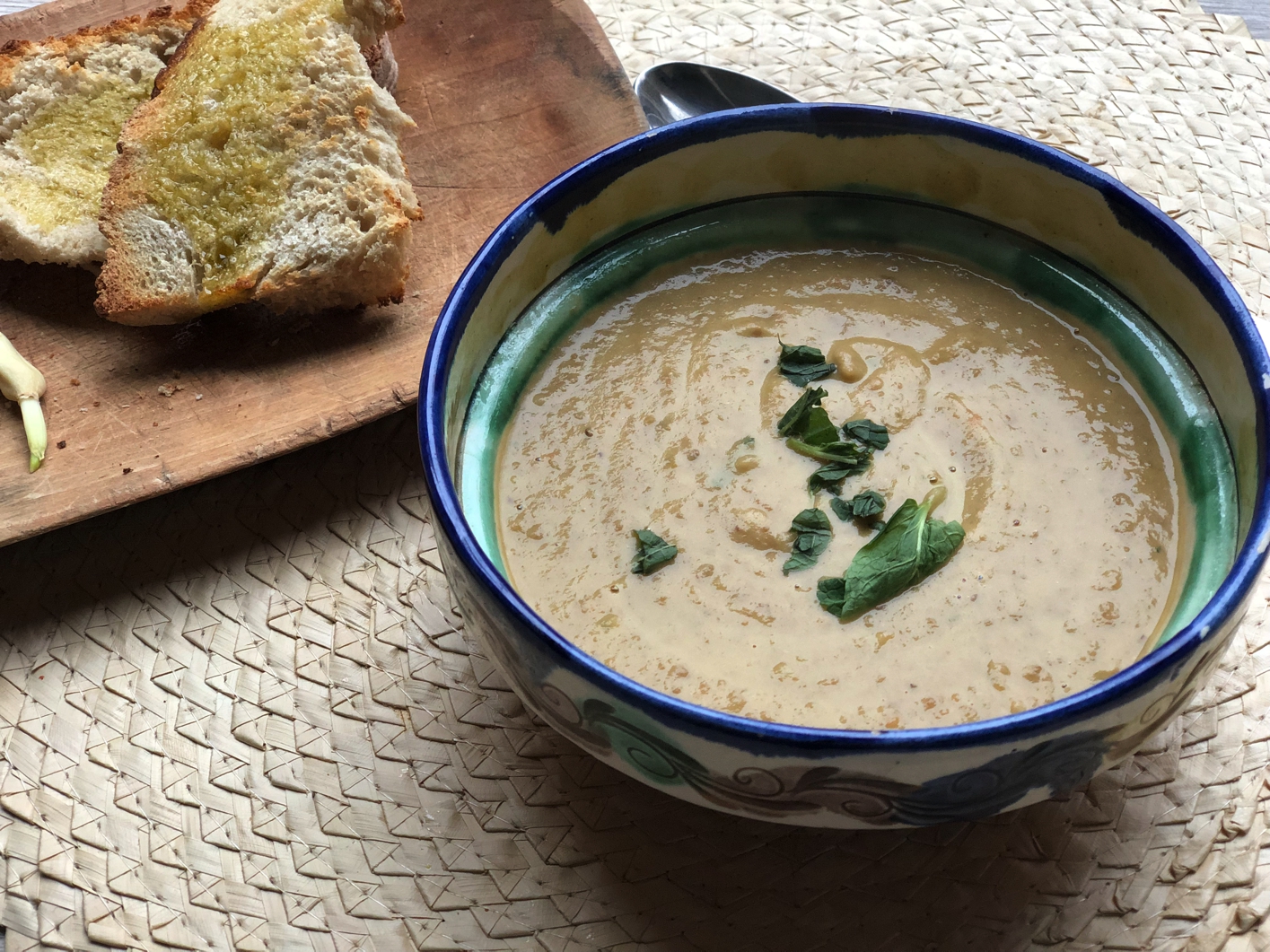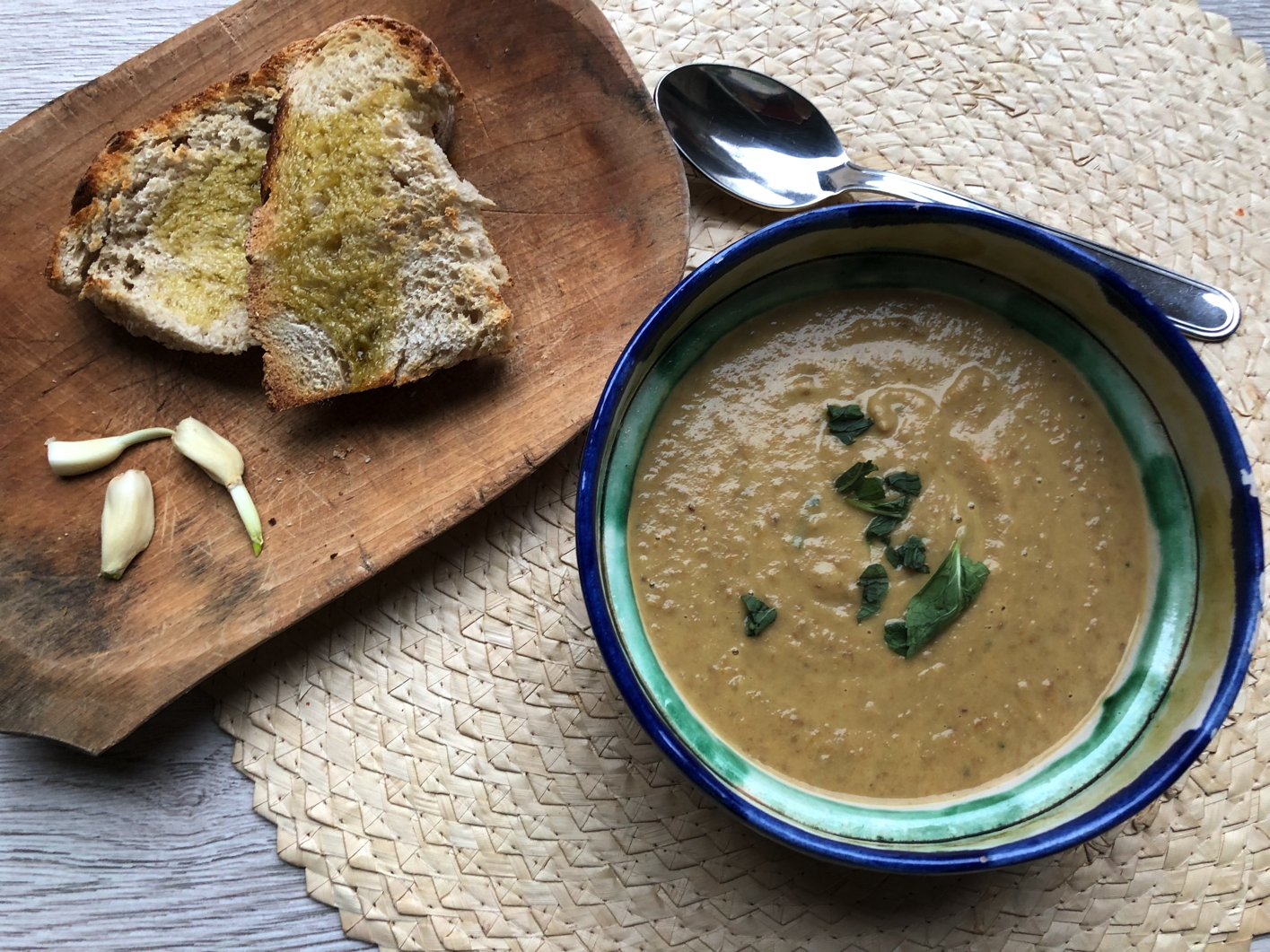 In perioada aceasta, cand suntem in asteptarea fetitei noastre, toata lumea din jur ma inconjoara cu atentie, grija si multe sfaturi despre ce ar trebui facut si ce nu. Ma impresioneaza atmosfera aceasta de protectie, desi le spun tuturor ca nu au de ce sa-si faca griji. Am dus o viata sanatoasa si pana in acest moment si nu am de gand acum sa incep sa fac cine stie ce nebunii. Un sfat pe care fiecare femeie insarcinata il primeste la un moment dat de la cineva este sa aiba grija la alimentatie, pentru ca in perioada sarcinii trebuie "sa manance pentru doi". Cu asta nu pot fi de acord. Poate trebuie sa fiu de doua ori mai atenta ce alimente consum asa incat sa tin cont de necesitatile de dezvoltare ale copilului, asta da. Insa, cred ca niciun medic nu a spus vreodata unei femei insarcinate sa manance pana cand nu se mai poate ridica de la masa. Dimpotriva! E recomandat sa mananci putin si des.
Cu gandul la fetita mea, am preparat azi o supa-crema de linte, un super-aliment pentru orice persoana care tine la sanatatea sa, dar mai ales pentru femeile insarcinate. Din acest punct de vedere, iata 7 dintre avantajele consumului de linte pentru o viitoare mama.
1. Lintea este o sursa excelenta de acid folic (vitamina B9), atat de recomandat in sarcina, pentru ca previne malformatiile congenitale la fat (defectele de tub neural si, in special, spina bifida, cum spun medicii).
2. Lintea este bogata in proteine, este un aliment gustos si satios, dar totodata ajuta si la dezvoltarea musculara a copilului.
3. Pentru ca are un mare continut de fibre, lintea combate problemele legate de tractul intestinal. Este recomandata asadar tuturor celor care intampina astfel de probleme, dar si viitoarelor mamici carora sarcina le poate aduce neplaceri de genul acesta, chiar daca nu le-au avut niciodata pana atunci.
4. Potasiul este unul dintre mineralele de care au nevoie viitoarele mame, iar lintea ni-l furnizeaza din belsug. Potasiul elibereaza energia din substantele nutritive și mentine echilibrul chimic al sangelui. Daca iti lipseste potasiul din organism te poti simti obosit si confuz, poti avea crampe si chiar aritmii.
5. O alta substanta minerala de care au nevoie viitoarele mame este fosforul. Pentru oase, piele si dinti, buna functionare a rinichilor si reglarea ritmului cardiac avem nevoie de fosfor. E adevarat ca ni-l putem asigura prin consumul mai multor alimente (somon, soia, seminte de dovleac, spre exemplu). Eu am ales insa pentru astazi o delicioasa supa-crema de linte. Ma rasfat si in acelasi timp ii ofer si organismului tot ce are nevoie.
6. O femeie insarcinata are nevoie si de vitamina B5 (acid pantotenic), care ajuta la producerea hormonilor si la metabolizarea proteinelor, grasimilor si carbohidratilor (adica tot ceea ce mancam). O portie de linte ne furnizeaza o cantitate importanta din necesarul zilnic de vitamina B5.
7. Femeile au nevoie de mult mai mult fier in perioada sarcinii, pentru a combate anemia. Volumul de sange din corp creste cu aproape 50% asa ca este nevoie de atentie la alimentatie ca sa nu se instaleze anemia. Cred ca toata lumea cunoaste povestea lui Popeye si cum devine el foarte puternic pentru ca mananca spanac. Este adevarat, spanacul este o sursa buna de fier, insa lintea contine o cantitate chiar mai mare de fier decat spanacul. Ca sa nu te simti ametit si lipsit de energie, sa ai dificultati de concentrare sau palpitatii e bine sa ai grija la lipsa de fier din corp.
Iata cate minuni se ascund intr-un mic bob de linte. Iar gatit asa cum vei vedea in reteta mea e incredibil de gustos! Supa e gata! Hai, copii, la masa!
Ingrediente:
Linte 500 g
ardei rosu 1 buc
morcov 2
telina 1/2
1/2 lingurita nucsoara
1/2 lingurita cardamon
sare si pieper
catel usturoi 1
2 linguri ulei masline
3-4 fire menta proaspata
Preparare:
Se fierbe lintea bine, morcovii, telina, ardeiul si apoi se mixeaza cu blenderul. Adaugi usturoiul maruntit, cardamonul, nuscoara, sarea si piperul. Se amesteca cu apa in care au fiert legumele si astfel stabilesti grosimea supei. La final pui menta maruntita si uleiul de masline! :)
EN: (google translate)
During this time, when we are waiting for our little girl, everyone around me carefully cares, cares, and tips for what should be done and what not. I am impressed by this protection, although I tell everyone that they have nothing to worry about. I've been living a healthy life until now and I'm not going to start doing what's crazy now. One advice every pregnant woman receives at one point from someone is to take care of eating, because during pregnancy she has to "eat for two." With that I can not agree. Maybe I have to be twice as careful about what foods I eat to take into account the baby's development needs, that's it. But I think no doctor has ever told a pregnant woman to eat until she can not get up from the table. On the contrary! It is recommended to eat a little and often.
With the thought of my little girl, I have prepared today a lentil cream soup, a superfood for anyone who cares about it, but especially for pregnant women. From this point of view, there are 7 of the benefits of lentil consumption for a future mother.
1. Linde is an excellent source of folic acid (vitamin B9), so recommended in pregnancy to prevent birth defects in the fetus (neural tube defects and, in particular, spina bifida, as I say doctors).
2. Lint is rich in protein , it is a tasty and satiated food, but it also helps the child's muscular development.
3. Because it has a high content of fiber , leech counteracts intestinal tract problems. It is therefore recommended to all those who encounter such problems, but also to future moms whose pregnancy can cause such misfortunes, even if they have never before.
4. Potassium is one of the minerals that future mothers need, and lint provides them with plenty. Potassium releases energy from nutrients and maintains the chemical balance of blood. If you lack the potassium in your body you can feel tired and confused, you can have cramps and even arrhythmias.
5. Another mineral that future mothers need is phosphorus . For bones, skin and teeth, good kidney function and heart rate control, we need phosphorus. It is true that we can provide it with the consumption of several foods (salmon, soybeans, pumpkin seeds, for example). But I chose a delicious soup-lentil cream today. I spoiled myself and at the same time I also give the body everything she needs.
6. A pregnant woman also needs vitamin B5 (pantothenic acid), which helps to produce hormones and metabolize proteins, fats and carbohydrates (ie everything we eat). A serving of lentils provides us with an important amount of daily vitamin B5 requirements.
7. Women need much more iron during pregnancy to fight anemia. The volume of blood in the body increases by almost 50%, so attention to food is needed to avoid anemia. I think everyone knows Popeye's story and how he gets very strong because he's eating spinach. It is true, spinach is a good source of iron, but linden contains even more iron than spinach. To not feel dizzy and lacking in energy, have difficulty concentrating, or palpitations, it's good to take care of the lack of iron in your body.
Here are some miracles hiding in a small lentils. And cooking as you will see in my recipe is incredibly tasty! Soup is ready! Come on, children, at the table!
ingredients:
Lentils 500 g
red pepper 1 pc
carrot 2
celery 1/2
1/2 teaspoon nutmeg
1/2 teaspoon of cardamom
salt and pieper
catel garlic 1
2 tablespoons olive oil
3-4 fresh mint
Preparation:
Boil well, carrots, celery, pepper and then mix with the blender. Add the chopped garlic, cardamom, nucca, salt and pepper. Mix with the water in which the vegetables have been cooked and thus determine the thickness of the soup. Finally, chopped mint and olive oil! :)